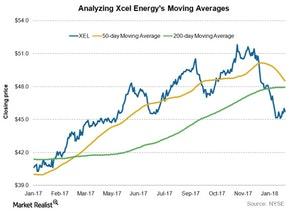 Looking at Xcel Energy's Moving Averages and Short Interest
By Vineet Kulkarni

Updated
Moving averages
Though it was one of the top-rallying stocks of the last year, Xcel Energy (XEL) currently seems weak considering its moving average levels.
On January 31, 2018, XEL was trading 6% and 5% lower than its 50-day and 200-day moving averages, respectively. The weakness in the stock is highlighted by its fair discount to both its key moving average levels. XEL's 200-day moving average of ~$47.94 is likely to act as a resistance for the stock in the short term. It's currently trading at $45.64.
Article continues below advertisement
Relative strength index
Xcel Energy stock currently seems stable given its RSI (relative strength index) of 48. RSI movements of below 30 suggest that a stock has been oversold, while movements of above 70 suggest that a stock has been overbought.
Short interest
According to a recent report, short interest in Xcel Energy stock rose 9% on January 12, 2018. Total shorted shares in XEL were ~12.2 million on December 29, 2017, while they rose to 13.4 million by January 12, 2018.
Short interest reflects the number of a company's shares that have been sold short and haven't been bought back yet. The number is useful in tracking investor sentiments. A rise in short interest could mean that more investors expect the stock to fall in the near term.
You can learn about broader utilities' (XLU) (IDU) chart indicators and their recent performances in XLU: Analyzing Utilities' Chart Indicators.