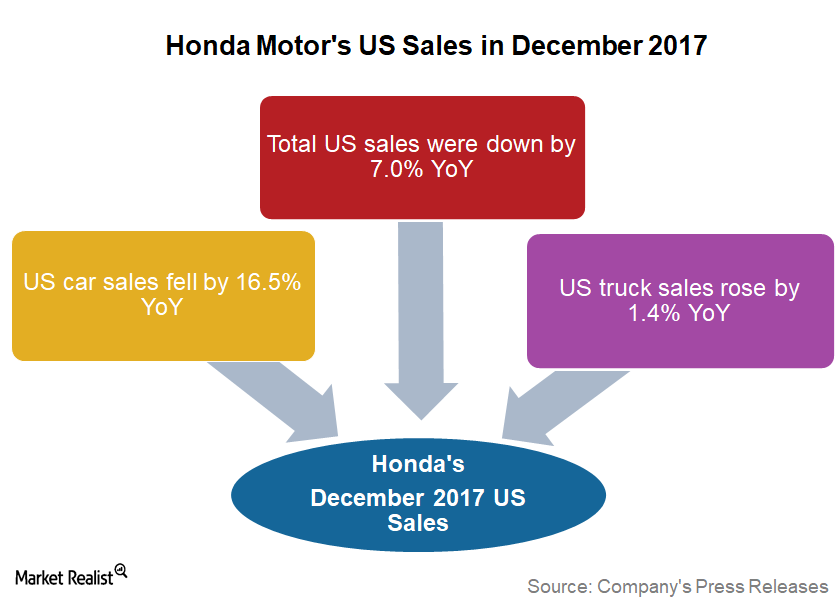 Honda's US Sales Rose for the 6th Consecutive Year in 2017
Honda's US sales in December
In December 2017, the American division of Honda Motor Company (HMC) reported a YoY (year-over-year) decrease of about 7.0% in its US market sales. The company sold 149,317 vehicle units in the US last month as compared to 160,477 units in December 2016. In the previous three months, Honda's American division reported a YoY increase in its US sales.
Article continues below advertisement
Truck sales were still up
Honda's total US sales in December witnessed tailwinds from a continued recovery in its truck segment sales. In December, Honda's total US car sales were at 62,577 units, down 16.5% YoY. However, these car sales figures were higher than the company's US car sales of 61,059 units in November.
In addition, HMC reported a rise of 1.4% YoY in its truck sales last month to 86,740 units, which was also much higher than the 72,097 units of trucks sold in the previous month.
Honda locally manufactures the majority of its cars sold in the US, but it also imports some from its home market, Japan. In December 2017, the company's US-manufactured car sales fell 11.7% YoY, whereas its imported car sales were down substantially by 40.7% YoY.
Positive 2017 US sales
Unlike its Japanese peer Toyota (TM), Honda's 2017 US sales stayed in the green territory. In 2017, HMC sold about 1.6 million vehicle units in the US, marginally up 0.2% as compared to 1.6 million units in 2016.
Interestingly, Honda was the only mainstream automaker in 2016 to report gains in its US market sales for 2016. Other automakers (XLY) like General Motors (GM), Ford (F), and Toyota (TM) reported a sales drop that year. Similarly, HMC managed to report positive US sales growth in 2017 unlike GM, Ford, and Toyota.
Next, we'll see what analysts are recommending for foreign automaker stocks after their December 2017 US sales reports.