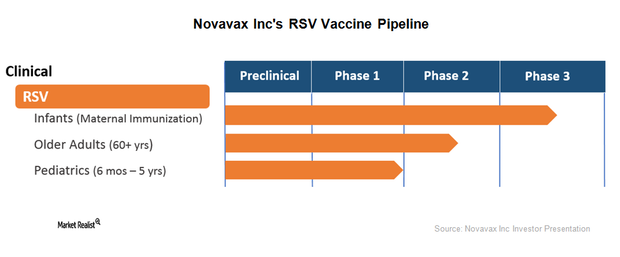 Exploring Novavax's Vaccine Candidates for RSV
Respiratory Syncytial Virus (or RSV) vaccine
Traditional vaccines mimic a virus and cause the immune system to respond. However, Novavax's (NVAX) vaccine candidates generate a differentiated response from the immune system.
This approach can be more effective than the body's naturally occurring immunity. Novavax's vaccine technology can be used for a variety of infectious diseases. According to the company, ~64.0 million RSV infections occur every year on a global basis. The global cost of RSV exceeds $88.0 billion.
At present, there is no licensed vaccine for RSV. The company has targeted three population segments for its RSV F Vaccine candidate—infants via maternal immunization, adults who are 60 years of age or older, and children up to five years of age.
Article continues below advertisement
RSV trials
In December 2015, Novavax (NVAX) initiated a Phase 3 clinical trial for evaluating RSV F vaccine for infants via maternal immunization. The company expects to complete enrollment for the trial by mid-2018 and expects the interim data to help file for a BLA in 2019.
This trial, also called Prepare, is supported by an $89.0 million grant from the Bill & Melinda Gates Foundation. The company expects the trial to expand from 16 sites to 90 sites in 12 countries in 2018.
In July 2017, Novavax announced positive data from its Phase 2 clinical trial of RSV vaccine for older adults. The RSV program for pediatrics is in its Phase 1 clinical trial, and the company reported positive top-line data from this trial in September 2015.
Peers
In the vaccines market, the company competes with peers Bavarian Nordic (BAVA), Merck (MRK), Sanofi (SNY), and AstraZeneca (AZN). Merck's vaccine candidate V920 is currently in Phase 3. Bavarian Nordic's vaccine candidate is in its Phase 2 stage, and Sanofi and AstraZeneca are jointly developing a candidate against RSV.
Novavax comprises ~0.02% of the iShares Russell 2000 ETF's (IWM) total portfolio holdings.
In the next part of this series, we'll take a look at Novavax's vaccine candidates for the Zika and Ebola viruses.