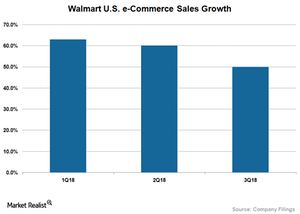 Walmart's e-Commerce Sales Continue to Surge
3Q digital sales rose 50%
Walmart (WMT) continued to impress with its e-commerce sales in fiscal 3Q18. During the quarter, its digital sales in the United States (SPY) rose 50%, driven by strong sales for Walmart.com. Innovative delivery mechanisms, money-saving and time-saving initiatives, expanded offerings, and strategic pricing helped the company report higher sales, despite stiff competition from Amazon (AMZN). Walmart's e-commerce sales rose 63%, 50%, and 50% in fiscal 1Q18, 2Q18, and 3Q18, respectively.
Walmart's digital sales are projected to grow at a rapid rate. Management estimates its digital business to generate sales of $11.5 billion in fiscal 2018 and rise 40% in fiscal 2019. However, the rate of growth is expected to decelerate a bit as it laps the Jet.com acquisition.
Article continues below advertisement
What drives Walmart's e-commerce growth?
As consumers shifted to a digital mode of shopping, Walmart stepped up its digital initiatives. The key factor was its acquisition of Jet.com, which was a game-changer. The acquisition positioned the company to compete against e-commerce giant Amazon.
Walmart also revamped its delivery mechanism, which seems to have boded well with the changing needs of consumers. The company is offering two-day free delivery on orders above $35. It also expanded its online grocery pickup service to 1,100 locations by the end of fiscal 3Q18 and plans to add another 1,000 locations by the end of fiscal 2019. The company is also testing some unique delivery techniques that include unattended delivery through its partnership with August Home. It also acquired Parcel, a technology-based delivery start-up, to offer same-day delivery service in New York City. The company is also testing delivery through Uber, and to reduce the last mile shipping costs, it's testing deliveries through its associates. In addition to the innovative delivery system, Walmart is offering pickup discounts and has introduced pickup towers to provide value and convenience.
On the merchandising front, Walmart has acquired several in-vogue brands, including ModCloth, ShoeBuy, and Moosejaw. It also brought in category specialists to improve merchandising. Recently, it entered into a partnership with upscale fashion brand Lord & Taylor to launch its flagship store on Walmart.com.
Walmart also extended its partnership with Google (GOOGL) to offer voice-based shopping and simplified its returns policy. All these measures may position it well against rivals Target (TGT) and Costco (COST), who are also slowly catching up and investing in their digital businesses.