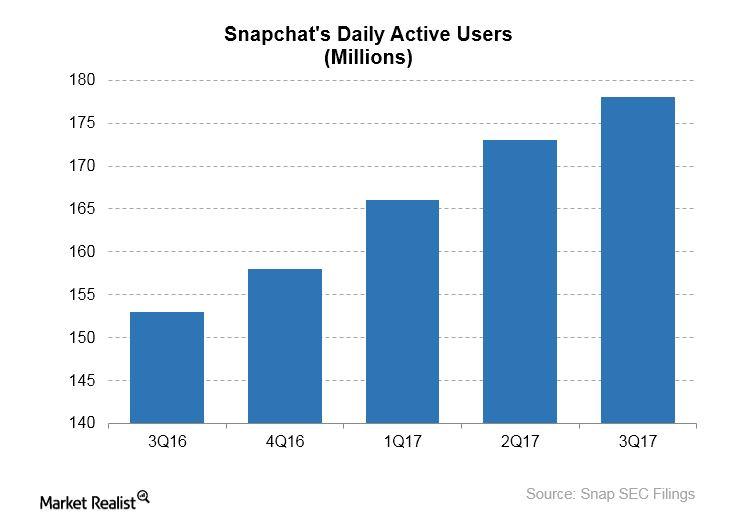 What Snap's Management Has to Say for Itself after a Feeble 3Q17
Revenues grew 62% YoY
For US-based (SPY) camera company Snap (SNAP), 3Q17 didn't pan out the way its management expected. In 3Q17, Snap's revenues grew 62% YoY (year-over-year) to $209.9 million but still fell short of the consensus estimate, which called for revenues of $236.9 million.
Although Snap's top line missed expectations by a large margin, its bottom line impressed. The company posted an adjusted EPS (earnings per share) loss of $0.14, beating the EPS loss of $0.15 that analysts were expecting.
Article continues below advertisement
Audience growth wasn't sufficient
But on the audience front, Snap disappointed. The company reported that it finished 3Q17 with 178 million DAUs (daily active users), which was 5.0 million higher than in 2Q17 but below the 181.8 million DAUs that analysts were expecting. Snap chief executive Evan Spiegel admitted that the audience growth recorded in 3Q17 wasn't impressive.
In response to the largely disappointing 3Q17 results, Snap's management outlined a number of commitments it that hopes will bring improvements, including improvements in audience growth, revenue growth, and profitability.
Redesigning apps and connecting the world
One of those commitments is to redesign the company's core product, the Snapchat app. This redesign would focus on making Snapchat simpler to understand and use because Snap has received some feedback that the app is confusing to some users.
To encourage users to contribute more high-quality content to drive more user engagement on Snapchat, Spiegel stated that the company will build a monetization (XLK) opportunity for a creator community.
Snap also stated that it would be exploring ways to provide low-cost Internet access to its users in the developing world as part of its efforts to bring more people to Snapchat around the world.
Notably, Snap rivals Facebook (FB) and Google (GOOGL) are also working on global Internet access initiatives to try to bring more people online around the world.