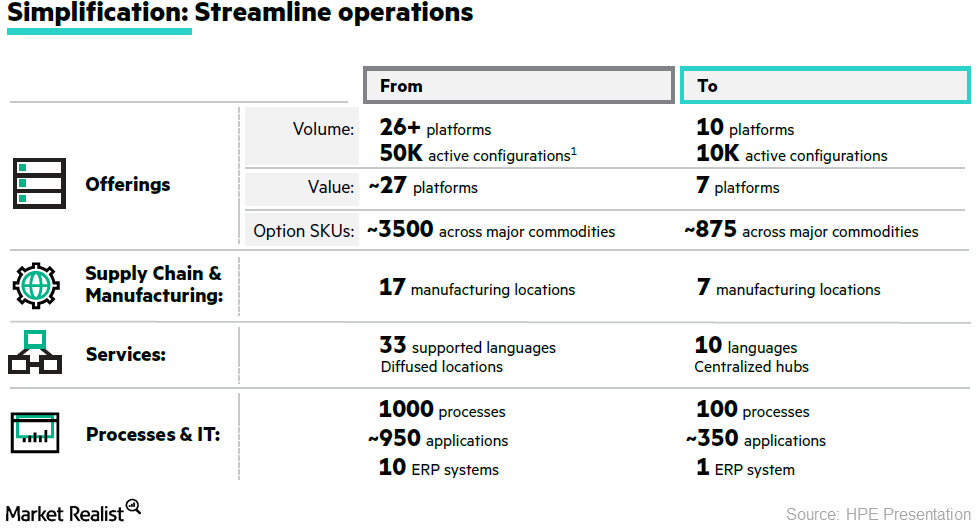 Hewlett Packard Enterprise's Money-Saving Strategy
HPE Next might save $1.5 billion
Hewlett Packard Enterprise (HPE) has launched its HPE Next initiative, which could help the company save approximately $1.5 billion over the next three years. HPE plans to improve margins by profitable growth and will look to sell high-margin products to Tier 1 customers. HPE will only focus on operations in 76 countries, which account for 99.5% of its revenue.
Article continues below advertisement
Streamline operations
We know that HPE has become a leaner company after its split from HP (HPQ) and various spin-offs and mergers. The company now needs to streamline operations to reduce its cost base. HPE initially had 26 product platforms, which will be reduced to ten. The company will also cut its manufacturing locations from 17 to seven.
HPE previously had a reporting structure spanning six to seven levels between the CEO and country lead, with a complex region and subregion structure. This structure has been reduced to three to four levels between the CEO and country lead.
Additionally, HPE had over 400 sales compensation plans, with more than 30 people being compensated on a single deal in some cases. The new structure ensures that the company has 25 core sales compensation plans, with no more than three employees being compensated for a deal.