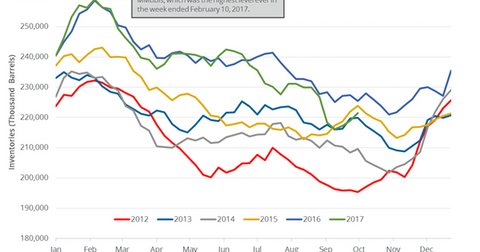 Surprise Build in US Gasoline Inventories: Impact on Prices
By Gordon Kristopher

Oct. 13 2017, Published 2:26 p.m. ET
US gasoline inventories  
The US Energy Information Administration (or EIA) released its "Weekly Petroleum Status Report" on October 12. It reported that gasoline inventories rose by 2.4 MMbbls (million barrels) to 221.4 MMbbls from September 29 to October 6. However, US inventories are down 1.7% or 4 MMbbls year-over-year.
The market anticipated that US gasoline inventories would have fallen by 0.5 MMbbls between September 29 and October 6.
US gasoline (UGA) and crude oil (OIL)(DBO (SCO) futures fell on October 12 due to the surprise build in gasoline inventories. Gasoline futures fell 1.6% to $1.58 per gallon on October 12.
Article continues below advertisement
US gasoline production, imports, and demand  
US gasoline production fell 112,000 bpd (barrels per day) to 9,741,000 bpd between September 29 and October 6. Production is down 194,000 bpd or 2% year-over-year.
US gasoline imports fell 2,000 bpd (barrels per day) to 860,000 bpd. However, imports rose by 98,000 bpd or 13% year-over-year.
US gasoline demand rose by 239,000 bpd or 2.6% to 9,480,000 bpd. Demand rose by 216,000 bpd or 2.3% year-over-year. The rise in gasoline demand could have a positive impact on gasoline and crude oil (UCO)(DTO) prices.
Impact of gasoline inventories  
US gasoline inventories are 6.6 MMbbls or 3% above their five-year average. Inventories rose for the third consecutive week, which could weigh on gasoline prices. However, gasoline inventories are down by 21 MMbbls or 8.6% in the last 18 weeks. A fall in gasoline inventories could support gasoline prices. Higher gasoline prices support crude oil prices.
Next, we'll review US distillate inventories for the week ending October 6.