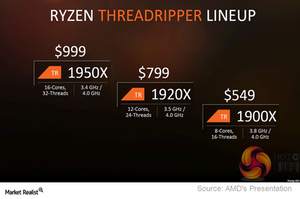 AMD's Ryzen Threadripper Surrounded by Speculation
By Puja Tayal

Updated
AMD's Ryzen Threadripper
Earlier in this series, we saw that Advanced Micro Devices' (AMD) high-end Ryzen Threadripper CPU (central processing unit) was well-received by the market. Consumers preferred Threadripper over Intel's (INTC) competitive i9 processor.
At the Deutsche Bank Technology Conference, AMD's chief financial officer, Devinder Kumar, stated that within AMD's Threadripper series ranging from $549 to $999, the latter version was the most popular among customers.
Article continues below advertisement
Ryzen Threadripper 1900X versus Ryzen 7 1800X
TechRadar compared the eight-core/16-thread Ryzen Threadripper 1900X priced at $549 against the eight-core/16-thread Ryzen 7 1800X priced at $499. In terms of gaming, both CPUs deliver similar frames per second performance. In fact, the 1800X performs better in some cases.
On the other hand, the 1900X delivers better multitasking performance, as it offers four-channel DDR4 2667 memory support compared to Ryzen 7's two channels, as well as 64 PCIe (Peripheral Component Interconnect Express) lanes.
Overclocker finds Threadripper and EPYC share the same architecture
Ryzen Threadripper is comparable with AMD's EPYC server processor, as they share the same architecture. This was revealed by a popular overclocker der8auer, who delidded Threadripper's engineering sample in August 2017 and found that the CPU has four dies, just like the EPYC processor. Delidding is the process of removing the metal lid that covers a consumer desktop processor to reveal the contents of the chip.
Clarifying der8auer's findings, AMD's senior product manager, James Prior, stated that the two extra dies are "dummy dies" that cannot be enabled and are only used to support the heat spreader.
Article continues below advertisement
In September 2017, der8auer delidded a retail Threadripper 1950X processor and found that the two dummy dies had integrated circuits and transistors. This discovery floated speculation that there might be a way to activate the dummy dies. The likelihood of this speculation to be true is reduced as AMD would not take the pains to attach fully functional dies on Threadripper for no charge.
In response, Prior explained that the two non-functional dies "have no path to operation." Hence, the company used the term dummy dies instead of inactive dies. However, one thing is clear—Threadripper uses the same design as EPYC.
Threadripper's processors
Tom's Hardware noted that Threadripper processors could be defective EPYC processors. This makes business sense, as AMD could have launched Threadripper to monetize the manufacturing defects.
Wccftech and der8auer drew another conclusion that AMD could be using four dies in Threadripper as it plans to launch a 32-core desktop processor in the future.
Next, we will look at AMD's Ryzen Pro processors.