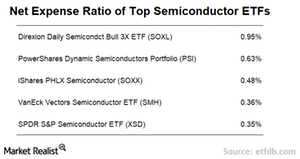 Why SMH Has One of the Lowest Expense Ratios
By Peter Barnes

Updated
Expense ratio
The VanEck Vectors Semiconductor ETF (SMH) is an open-ended fund with assets under management of $774.0 million. On a gross level, the fund (SMH) charged 0.41% (0.35% on a net level) of the investment value as annual fund operating expenses, also called expense ratio. An expense ratio is one of the best indicators of an ETF's tracking difference because, all else being equal, returns for ETFs seek to lag underlying index returns by the exact amount of the expense ratio. Among the top semiconductor ETFs in the country, the VanEck Vectors Semiconductor ETF (SMH) has one of the lowest expense ratios.
For the last three years, the fund's correlation with the S&P 500 was 0.72 with a standard deviation of 17.26 and a Sharpe ratio of 1.28. Generally, a higher Sharpe ratio indicates more attractive risk-adjusted return potential.
Article continues below advertisement
Portfolio turnover
In the last fiscal year, the fund's portfolio (NVDA) (INTC) turnover rate was 53.0% of the average value of its portfolio. A higher portfolio (QCOM) (TXN) turnover normally leads to additional transaction costs for the fund, which could result in higher taxes when fund shares are held in a taxable account. These costs affect the fund's performance.