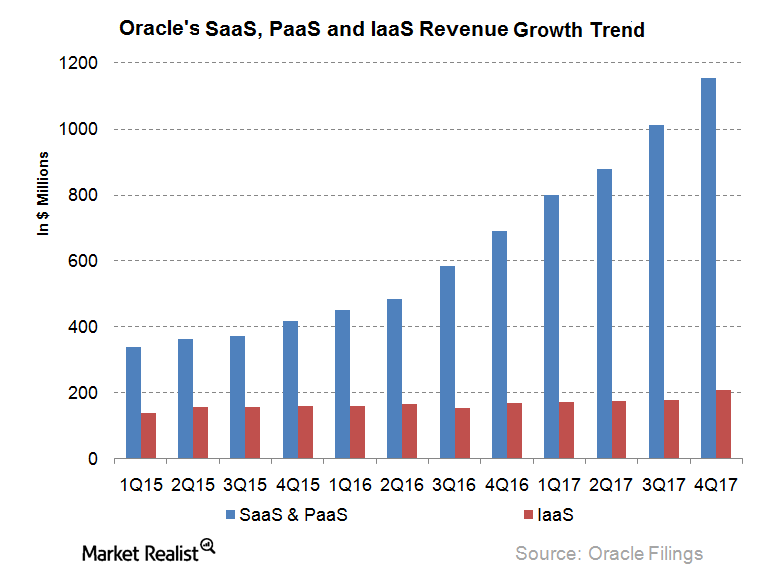 Oracle's Cloud Offerings Dominated Its Fiscal 4Q17 Results
By Anne Shields

Dec. 4 2020, Updated 10:52 a.m. ET
Increased traction of cloud offerings
Previously in this series, we discussed Oracle's (ORCL) recently announced fiscal 4Q17 results, which were better than expected. Let's look into the performance of Oracle's cloud offerings in the last quarter.
In fiscal 4Q17, Oracle's SaaS revenues grew 75% on a YoY basis to $1 billion. Its Cloud PaaS[1. platform-as-a-service] and IaaS[2. infrastructure-as-a-service] revenues grew 42% to $403 million. Revenues from the IaaS business grew 23% to $208 million. Oracle's total cloud revenues grew 64% to $1.4 billion.

The revenues from total cloud plus on-premise software usually account for about 80%–82% of Oracle's total revenues. These revenues grew 6% to $8.9 billion in the most recent quarter.
Oracle's cloud offerings performance in fiscal 4Q17 was in accordance with our expectations, as we highlighted in our June 19 Oracle series.
Article continues below advertisement
Oracle grouped IaaS and PaaS in 4Q17
Until fiscal 3Q17, Oracle had combined its SaaS cloud and PaaS revenues. However, in fiscal 4Q17, Oracle combined its PaaS and IaaS cloud businesses. Oracle's co-CEO, Safra Catz, noted that the company took this action because "synergies and cross-selling between these two businesses is very high."
Oracle's IaaS business is still in its nascent stage. Through its IaaS offering, Oracle provides computing resources and storage on demand. Oracle's PaaS business is more stable, as it provides access to app management and data analytics tools.