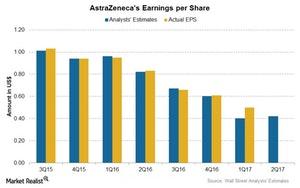 AstraZeneca's 2Q17 Earnings: Analysts' Estimates
By Mike Benson

Jul. 26 2017, Published 2:09 p.m. ET
A look at AstraZeneca
Headquartered in the United Kingdom, AstraZeneca (AZN) is one of the largest pharmaceutical companies by revenue. The company operates in over 100 countries and deals with primary care and specialty care medicines.
AstraZeneca is set to release its 2Q17 earnings on July 27, 2017. Wall Street analysts expect AZN's top line to fall ~9.5% to $5.1 billion in 2Q17, compared to $5.6 billion in 2Q16. The company's earnings per share (or EPS) are expected to be $0.42 in 2Q17.
The chart above shows a comparison between AZN's actual EPS and analysts' estimates for its EPS over the last few quarters, along with analysts' estimates for 2Q17.
Article continues below advertisement
Revenue estimates
Analysts expect AZN's 2Q17 revenue to fall 9.5% to $5.1 million, compared to $5.6 million in 2Q16. Its revenue is expected to be driven by growth platforms such as the drugs from its respiratory franchise, its cardiovascular and metabolic disease franchise, and its oncology franchise, as well as overall sales in Japan and emerging markets.
Profitability estimates
Analysts' estimates show a gross profit margin of 81.0% for AZN in 2Q17, a 0.5% contraction compared to its gross profit margin in 2Q16 due to a higher cost of sales. 
Also, due to a fall in its R&D (research and development) expenses, as well as its lower SG&A (selling, general, and administrative) expenses as a percentage of its total revenue, AZN's EBITDA (earnings before interest, tax, depreciation, and amortization) margin is expected to expand to 35.3% in 2Q17, compared to 34.7% in 2Q16. Analysts' estimates show an adjusted net income of $1.0 billion for the company in 2Q17.
To divest company-specific risk, investors can consider ETFs such as the iShares S&P Global Healthcare ETF (IXJ), which holds 1.8% of its total assets in AstraZeneca. IXJ also holds 7.7% in Johnson & Johnson (JNJ), 2.5% in Sanofi (SNY), and 4.4% in Merck & Co. (MRK).