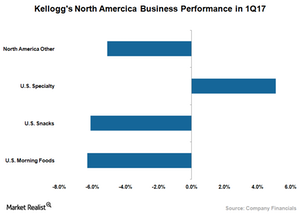 Why Kellogg's North America Segment Continued to Struggle in 1Q17
Kellogg struggles in domestic market
Kellogg (K) continues to struggle in North America like most of its peers as a result of weak consumption trends mainly in the US (SPY). The company's sales fell 4.2% in 1Q17 due to a decline in volume driven by low demand and lower shipments on account of reduction in trade inventory.
In comparison, Kraft Heinz's (KHC) net sales fell 3.5% in the United States due to a 4.2% fall in volume and mix. Meanwhile, General Mills (GIS) posted a 7% decline in its North America retail segment during the last reported quarter. Plus, Mondelēz International's organic sales marked a decrease of 1.9% in the North America region during 1Q17.
Article continues below advertisement
Digging deeper
In North America, the company's US Morning Foods segment witnessed sluggish sales as weak demand and lower shipments negatively impacted volumes. Sales fell 6.3% in 1Q17 and the company's performance in its six core brands remained mixed. The company's kid's brands generated healthy sales driven by increased demand for Frosted Flakes and Froot Loops. On the other hand, demand for Special K and Mini-Wheats fell.
Kellogg's Pop-Tarts continued to gain market share in the toaster pastries segment driven by the newly launched Pop-Tarts Dunkin' Donuts flavors. Going forward, management expects quarterly sequential improvement in the Morning Foods segment driven by the overhauled cereal business and innovative product launches including Jolly Rancher Pop-Tarts.
The snacks business in the US fell 6.1% during 1Q17 on account of industry-wide softness and lower shipments. Also, the company's strategic transition from direct store delivery to warehouse distribution also negatively impacted initial orders in February.
The company's North America Other segment, which includes its frozen foods business in the US, Kashi, and Canadian businesses, registered a 5.1% decrease in sales. Category-wide weak demand and volume declines in Canada on account of increased efforts to drive price realization negatively impacted the top line. The company's US Specialty segment marked the seventh consecutive quarter of sales growth driven by innovative products and strategic expansion into core and emerging channels.