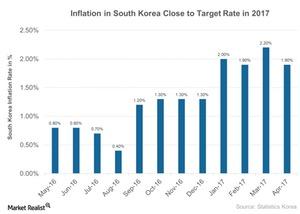 South Korea Maintains Interest Rate, Inflation Nears Target Rate
By Mary Sadler

Jun. 2 2017, Updated 7:37 a.m. ET
South Korea's economy in 2017
Asia's (VPL) (EPP) fourth-largest economy, South Korea's (EWY), showed some moderate signs of recovery in 1Q17. Improved global (ACWI) (VT) economic conditions have boosted the country's exports and investments in the last two quarters. South Korea's central bank has kept the key interest rate steady, and inflation has remained close to the target rate in 2017.
The improved outlook comes with the expectation of the country's new administration providing a large fiscal stimulus in 2017. Let's look at inflation trends over the last year.
Article continues below advertisement
Inflation in South Korea
South Korea's inflation rate dropped to 1.9% in April 2017, lower than the rate of 2.2% in the previous month, and slightly below the expectation of 2%. For the second time in the last five years, the inflation rate is close to the central bank's target rate of 2%. Prices were down mainly due to slower growth in prices of food, beverages, and transport. Consumer prices fell 0.1% between April and May 2017.
The central bank of South Korea also kept its base rate steady for the ninth consecutive meeting, at a record low of 1.3% in April 2017. The central bank expects inflationary pressure on the demand side to remain flat with the recent moderate pace of economic growth.
Policymakers have revised their growth forecasts for 2017 to 2.6%. Investors can expect the interest rate to stay steady but are likely to be affected by US interest rate tightening.
The central bank's decision to keep the interest rate steady affected the South Korean market positively, as both the South Korean won and stocks saw gains. The currency has gained 13% against the US dollar so far in 2017. The benchmark index, the KOSPI (Korea Composite Stock Price Index), has gained about 16%. Let's look at the unemployment situation in South Korea in the next article.