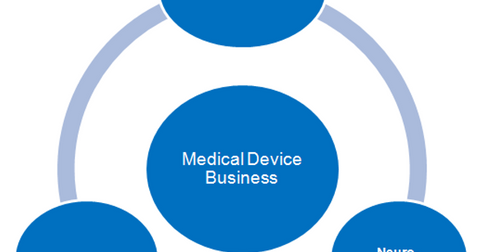 Abbott Laboratories Still Dominates the Medical Device Segment
By Margaret Patrick

Updated
Medical device business
In 2017, Abbott Laboratories (ABT) plans to focus on the integration of St. Jude Medical's medical device business, realizing deal synergies, and achieving financial targets.
The acquisition of St. Jude is expected to establish Abbott Laboratories as a major medical device player in areas such as cardiovascular, neuromodulation, and diabetes care.
For both 2Q17 and 2017, Abbott Laboratories expects to witness double-digit revenue growth for its Diabetes Care segment year-over-year (or YoY). The Cardiovascular and Neuromodulation segment is expected to report flat YoY sales growth in 2Q17, mainly due to a higher base in 2Q16 that arose from the resolution of a royalty agreement related to Abbott's legacy vascular business. 
However, if this one-time event is ignored, the Cardiovascular and Neuromodulation segment is expected to report low single-digit YoY revenue growth in 2Q17.
If Abbott Laboratories manages to surpass these growth projections in 2Q17, its share price could see a boost, as could the price of the Vanguard S&P 500 ETF (VOO). Abbott Laboratories makes up ~0.38% of VOO's total portfolio holdings.
Article continues below advertisement
Growth drivers in 2017
In 1Q17, Abbott Laboratories' Medical Device segment reported revenue of nearly $2.4 billion, of which $1.1 billion originated from the US market and the remainder came from international markets. 
The Cardiovascular and Neuromodulation segment reported sales of ~$2.1 billion, a YoY operational rise of ~2.4%. Electrophysiology, heart failure, and neuromodulation devices have been the key growth drivers in this segment.
Abbott Laboratories could see a boost in the sales of its electrophysiology products due to expectations of increasing adoption of the EnSite Precision Cardiac Mapping System, which was launched in the United States in 1Q17. This highly automated device enables physicians to take three-dimensional images to treat irregular heartbeats.
Abbott Laboratories is also expected to witness the continued adoption of MitraClip, the company's device for repairing mitral regurgitation, through 2017.
In the Neuromodulation segment, the company has launched multiple innovative devices such as Burst, which targets chronic pain, and other deep brain stimulation devices for treating movement disorders.
Successive new product launches are expected to enable the company to pose strong competition to other medical device players such as Medtronic (MDT), Thermo Fisher Scientific (TMO), and Boston Scientific (BSX).
In the next article, we'll discuss revenue projections for Abbott Laboratories in greater detail.