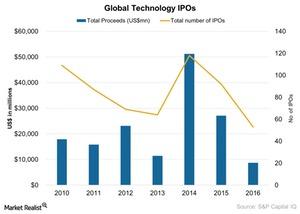 What Bob Doll Thinks about the IPO Market in 2017
By Mary Sadler

Nov. 20 2020, Updated 12:35 p.m. ET
IPO market performance in 2016
Equity market indexes across the United States are surging and recording all-time highs. The volatility index is also falling, which could be a good sign for IPO (initial public offering) activity in 2017.
However, the global economy is facing challenges due to the unknowns of geopolitical events such as Brexit and US economic policy changes. Overall IPO activity in terms of count fell 16% in 2016 compared to 2015. The amount of capital raised also fell ~33% to $132.5 billion, according to Ernst & Young's (EY) latest Global IPO Trends Report.
According to Nuveen's Bob Doll, the main driver of 2016's reduced activity was the lack of confidence among businesses due to political and economic uncertainty.
Article continues below advertisement
Global technology IPOs in 2016
According to a Pricewaterhousecoopers report, 2016 ended with fewer technology IPOs than 2015. The global IPO market in 2016 recorded only 53 technology companies completing IPOs amounting to $8.7 billion. 
Technology IPO activity in 2016 recorded a 42% fall in volume and a 68% fall in proceeds compared to 2015. The IPO market stayed low in 2016 mainly due to the following:
stock market volatility
presidential election uncertainty
public-private valuation disconnect for technology companies
However, market participants are expecting a rebound in 2017, as stocks are rallying across indexes. The outlook for 2017 is more upbeat, as economies are growing stronger, according to experts from EY.
According to Doll, IPO activity usually picks up and provides impressive returns when the markets are in the last phase of the bull market. Investors' risk appetites increase as they make profits on companies that have been market leaders during the bull run.
Higher return expectations provide the opportunity for IPO activity to surge during the latter phase of the bull cycle as investors look for new stocks that aren't part of the rally. Investors in the latter stage of the bull market are seen to shift their attentions and funds to stock IPOs, thereby driving returns on these IPOs.
Investors can invest in IPOs through ETFs that track the IPOs of various companies. IPO ETFs usually provide investors with access to a large number of initial public offerings. Some of these IPO ETFs include the First Trust US Equity Opportunities ETF (FPX) and the Renaissance IPO ETF (IPO). The companies in these ETFs include Kraft Heinz (KHC), AbbVie (ABBV), Shire (SHPG), and PayPal Holdings (PYPL).
Next, let's look at the most recent IPO in the US market and its takeaways.