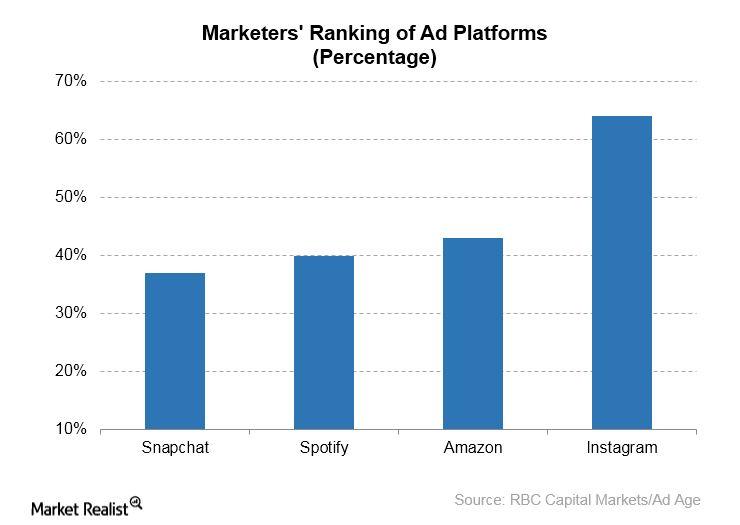 Snapchat or Instagram: Which One Takes Market Priority?
By Ruchi Gupta

Apr. 10 2017, Updated 7:35 a.m. ET
Instagram easily beat Snapchat
Investor scrutiny of Snap's (SNAP) business is increasing. Stockholders want justification for what they paid at the IPO (initial public offering). But the outcome of several marketing surveys seems disheartening for Snap investors. It turns out that advertisers aren't thrilled about spending their money on Snapchat.
Marketers are preferring Instagram to Snapchat in terms of where they would rather buy ads. RBC Capital Markets, in collaboration with Advertising Age magazine, conducted a series of studies that resulted in interviews with 1,600 marketers with varying budgets ranging from a few thousand dollars (UUP) to more than $500.0 million.
Article continues below advertisement
Snapchat ranks poorly
The study showed that 64.0% of the surveyed marketers said they were most interested in buying ads on Instagram, a Facebook (FB) property. Only 37.0% cited Snapchat as their preferred advertising platform. The above graph shows the ranking of various platforms covered in the survey.
Why there's tepid advertiser interest in Snapchat
The problem with Snapchat seems to be with marketers' perception of its ROI (return on investment). When marketers were asked to rank eight digital advertising platforms based on their ROI satisfaction, they ranked Snapchat near the bottom, at second to last. It only beat AOL, which is owned by Verizon (VZ). Alphabet's (GOOGL) Google ranked at the top, followed by Facebook.
What's Snap to do?
Snap has its work cut out for it as it begins the journey as a public company. For holders of the stock, the findings could add to their anxiety. Snap is already troubled by a controversial stock structure and a competitor who's duplicating its popular features.