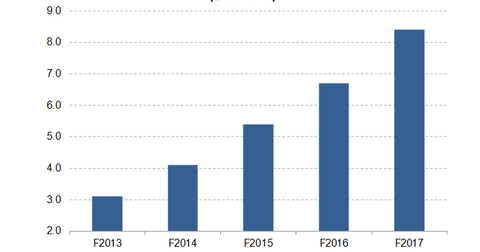 What Salesforce Is Buying in the Startup Market
By Ruchi Gupta

Updated
Startups buying up 120%
Salesforce (CRM) has recently been active in the M&A (mergers and acquisitions) market, buying startups that a company official has described as "tuck-in assets."
The company was on a startup buying spree in 2016, closing 120% more M&A deals in the year than it did in 2015, according to data from research company CB Insights. Salesforce, Alphabet's (GOOGL) Google, and Intel (INTC) were the most active dealmakers in 2016 at a time when most of their technology peers seemed to have slowed down their M&A engines.
The chart above shows Salesforce's annual revenue trends.
Article continues below advertisement
Eyes on AI, mobility, and big data
Salesforce is shopping in the startup market to help it drive growth and revenue diversification. But what exactly is Salesforce acquiring?
John Somorjai, who heads Salesforce's ventures arm, recently offered insight into the company's startup acquisition philosophy in an interview with Fortune magazine. It turns out Salesforce is more active in the AI (artificial intelligence), mobility, and big data spaces. The reason? The company has realized that with these technologies, it can quickly deliver the best solutions to its customers given that the technologies impact various business aspects.
Buying to continue
According to Somorjai, Salesforce intends to pursue more deals in the AI space. However, in terms of AI acquisition, the company is less focused on products and more focused on technology and talent. With these assets, Salesforce reasons, it can make incredible products to differentiate itself from the competition.
Prudent M&A decisions
The company is also trying to make prudent M&A decisions. For instance, it's avoiding areas such as social media marketing and mobile analytics, where valuations may have unjustifiably skyrocketed.
Saleforce is betting on internal innovation and startup acquisitions to help it stay ahead of competitors such as Microsoft (MSFT) and Oracle (ORCL).