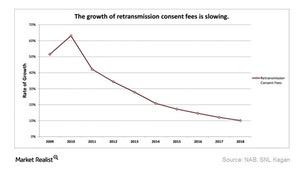 What's the Outlook for Time Warner's Affiliate Fees in 2017?
By Shirley Pelts

Dec. 4 2020, Updated 10:52 a.m. ET
Time Warner's affiliate fees
Media companies such as Time Warner (TWX) derive their revenues primarily from affiliate fees and advertising. Time Warner expects double-digit growth in affiliate fees for its Turner business division in 2017.
The reason Time Warner expects a high rate of growth for its affiliate fees in 2017 is that it continues to believe in the strength of its programming at Turner. However, at Time Warner's HBO, subscription revenue growth in the US markets was in the mid-single digits in 2016. The company stated in its 2016 earnings call that in 4Q16, it continued to see subscriber losses at its traditional television affiliates. As a result, domestic subscriber growth at HBO and Cinemax was flat for the year.
The company further stated that because HBO is currently in the process of renewing its affiliate deals, it's not expecting a quarter-over-quarter improvement in subscriber growth in 1Q17. 
However, in 2H17, Time Warner expects its subscriber revenue growth to improve as it completes its affiliate fee renewal agreements and improves its digital distribution.
Article continues below advertisement
Dish's retransmission fee disputes
However, pay-TV operators such as DISH Network (DISH) have experienced disputes with broadcasters and networks over carriage or retransmission fees. In 2016, the company was involved in disputes with Viacom (VIAB), Comcast (CMCSA), and Tribune Broadcasting.
The pay-TV industry is currently going through a transitional phase. Many pay-TV subscribers are severing their cable cords and moving to online content providers such as Netflix (NFLX), particularly due to high cable bills. This cord-cutting has resulted in increasing pressure on the revenues of pay-TV operators such as DISH, and now pay-TV operators are reluctant to pay higher distribution fees to broadcast networks.
However, as the chart above shows, according to a report from the National Association of Broadcasters (citing research from SNL Kagan), year-over-year growth in retransmission fees is expected to slow to 10% by 2018.