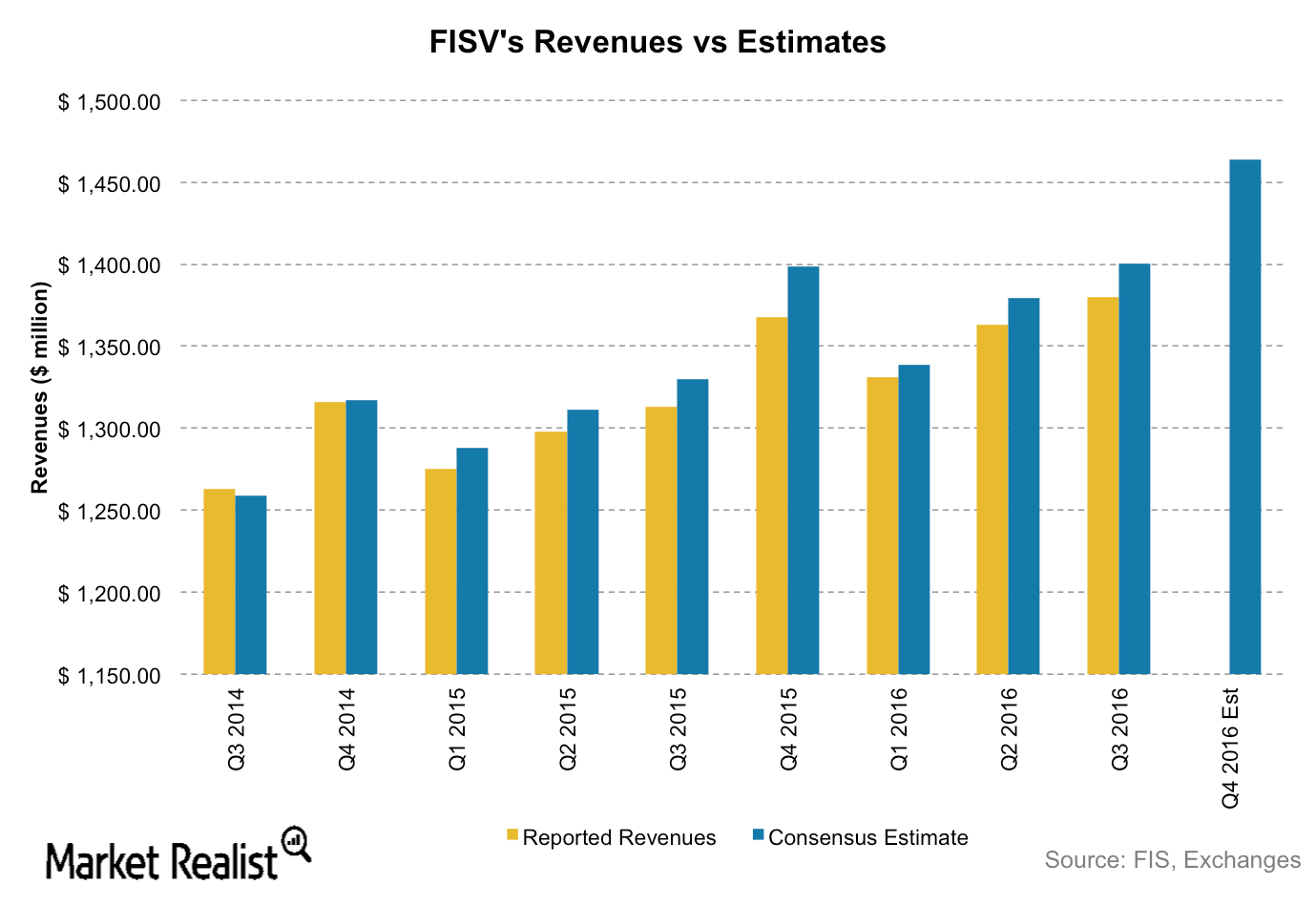 What Do Analysts Expect from Fiserv's 4Q16 Earnings?
Earnings estimates
Fiserv (FISV) is scheduled to report its fourth quarter results on February 8. The company is expected to post earnings of $1.16 per share for 4Q16, and EBITDA margins of 34%. For 2016, Fiserv expects organic revenue growth of 4% and EPS (earnings per share) of $4.43–$4.46, representing a growth of 14%–15% over 2015.
Notably, Fiserv (FISV) booked $5.2 billion revenues in 2015, while rival DST Systems (DST) generated $2.8 billion.
Article continues below advertisement
Fiserv operates on long-term contracts with its clients in order to generate recurring and steady revenues. The company doesn't currently pay dividends to its shareholders, and this practice provides sufficient capital for the company's operations, enabling it to grow inorganically via acquisitions.
The company expects to grow with the implementation of new technologies, including its Verifast palm vein reader and its integration of its Corillian Online banking platform with Amazon Echo. However, Fiserv faces threats from increasing regulations in the US financial sector (XLK) (XLF), as well as intensifying competition from rivals Fidelity Information Services (FIS), Equifax (EFX), and Jack Henry & Associates (JKHY).
According to consensus data accumulated by Reuters, net revenues for FISV are expected to reach $1.5 billion in 4Q16, which would be 7% higher year-over-year. Its net income is expected to be $252 million in 4Q16, or 17% higher than in 4Q15. Analysts expect EPS to come in at $1.16 in 4Q16, as compared to its adjusted EPS of $1.0 in 4Q15.