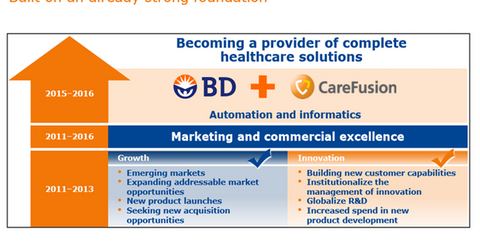 A Look at BDX's Recent Product Launches
By Sarah Collins

Jan. 3 2017, Updated 10:36 a.m. ET
BD's growth strategy
Becton, Dickinson and Company (BDX), or BD, has seen tremendous growth over the last few quarters as the company integrates Carefusion. BDX has grown on a solid foundation of growth through innovation and expansion across new product areas and geographies.
Expansion in emerging markets is one of BDX's key growth strategies. This expansion was accelerated in 2015–2016 through its acquisition of Carefusion.
BDX's R&D investments totaled ~$828 million in fiscal 2016, which represents an annual growth of ~31%.
BVX's peers Boston Scientific (BSX) and Medtronic (MDT) invested approximately 11% and 7.7% of their total revenues, respectively, toward R&D in their recently ended quarters. The iShares Edge MSCI Min Vol USA ETF (USMV) invests ~1.3% of its total holdings in BD.
Article continues below advertisement
Recent product launches
On December 15, 2016, Becton, Dickinson and Company (BDX) launched the BD Neopak 2.25 mL Prefillable Glass Syringe. The product is aimed at improving safety and convenience for patients.
The company noted that the product designed for "biopharmaceutical manufacturers that develop, manufacture and market high-value and sensitive biologic drugs that require higher quality levels and performance to treat chronic diseases such as, rheumatoid arthritis, psoriasis, lupus and severe asthma." The device is now available to patients in the United States, Japan, and Europe.
On November 8, 2016, BD collaborated with Eli Lilly (LLY) to launch the BD U-500 insulin syringe. It is the first insulin syringe for people suffering from diabetes who take Eli Lilly–manufactured Humulin R U-500 insulin. Humulin R U-500 insulin is used by diabetes patients suffering from high blood pressure and who need to inject more than 200 insulin units per day.