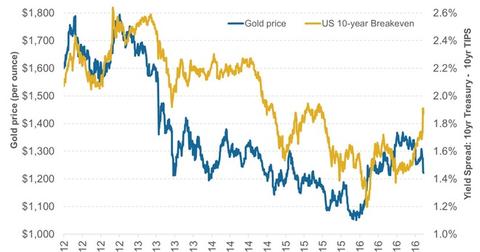 Could Gold Be a Hedge against Inflation?
By Meera Shawn

Updated
Inflation hedge
The interest rate hike was widely expected, and thus most of the price loss in the precious metals seemed to be already priced in. The Fed members thought that the US economy was in better shape than earlier. They also mentioned we could see as many as three more hikes in 2017. The inflation numbers seem to be in better shape than before. The target 2% may now seem closer than earlier expected.
Gold is said to be a hedge against inflation, meaning that when prices rise, investors can park their money in gold. However, at times, the price of gold and the inflation rate show a direct relationship with each other and the hedge doesn't hold. How well gold can protect investors against inflation remains unclear.
Article continues below advertisement
The US ten-year break-even rate
The chart above compares gold prices with the inflation rate. To describe inflation in the US economy, we can use the yield spread, which measures the difference between the ten-year US government bond yield and TIPS (Treasury inflation-protected securities).
The principal invested in TIPS is adjusted in line with the CPI (consumer price index). The yield spread, therefore, seems to be a good proxy for the US inflation measure. Over the past 45 years, gold prices and the US CPI show an average 12-month correlation of precisely zero.
Funds and miners may follow
Mining stocks and funds could support gold and other precious metals if they do see a rise. Funds that closely associate with gold and silver include the iShares MSCI Gold Fund (RING) and the Physical Silver Shares ETF (SIVR). Mining stocks that follow gold and silver include New Gold (NGD), Sibanye Gold (SBGL), Gold Fields (GFI), and Coeur Mining (CDE).