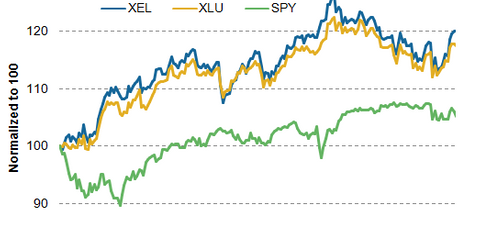 XEL, DUK, and SO: Utilities Turn Expensive Yet Again
By Vineet Kulkarni

Updated
Valuation
Many conservative investors might not have gotten the chance to benefit when the US utilities became cheap in early September 2016. Interest rate developments continued to turn in favor of utilities, which fueled their rally again in the week ended September 26.
The valuations of US utilities have seen record highs and are expected to stay there in the near term, as the rate hike possibilities this year still look uncertain.
On September 26, 2016, Xcel Energy (XEL) traded at an EV-to-EBITDA[1. enterprise value to earnings before interest, tax, depreciation, and amortization] multiple of 10.3x. Its five-year historical average valuation multiple stands at 9.5x while the industry average is 11x.
Xcel may appear relatively cheaper compared to its peers, but it is fairly overvalued when compared to its historical average.
Article continues below advertisement
Peer comparison
Duke Energy's (DUK) EV-to-EBITDA is 10.4x, while Exelon (EXC) and Southern Company (SO) have valuation multiples of 7.8x and 11.1x, respectively.
The EV-to-EBITDA ratio indicates whether the stock is undervalued or overvalued, irrespective of its capital structure. EV is the combination of a company's debt and market capitalization minus its cash holdings.
Forward EV-to-EBITDA is the ratio that considers current EV and estimates of EBITDA for the next 12 months. Xcel's forward EV-to-EBITDA ratio stands at 9.9x. A lower multiple than the current one indicates expectations of higher EBITDA for 2016.
Price-to-earnings multiple
US utilities are expensive when examined using price-to-earnings (or PE) multiples. They have mostly traded near the average PE multiple of 15x–17x in the last several years. However, they have never fallen below the 20x mark in 2016.
Xcel Energy is currently trading at a PE multiple of 21x, while Duke's PE multiple is 18x. Xcel Energy's peers Midwest Utilities, CMS Energy (CMS), and DTE Energy (DTE) are trading at levels above 22x.