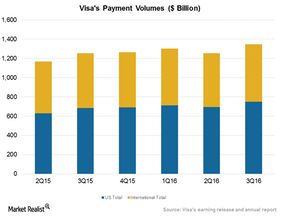 Spending to Grow Visa's Payment Volumes by Double Digits in Fiscal 4Q16
By Robert Karr

Updated
Payment volumes
Visa (V) expects low double-digit payment volumes growth in fiscal 4Q16,[1. ending September 30, 2016] mainly due to higher international growth. The company posted nominal volume growth for fiscal 3Q16, which ended on June 30, 2016.
Its US payment volumes grew by 10%, while growth in its international payment volume was 11%. This was primarily affected by lower domestic transactions in China that yield lower revenue.
Article continues below advertisement
Visa's cross-border volume grew modestly at 5%, compared to the same quarter in 2015. This growth comes in the wake of major uncertainties around the world, such as the Brexit vote, an oil price collapse, a weak commodity market, a slowdown in China, and terrorism and other destabilizing forces. This growth presents a fairly encouraging picture of the company's performance.
Dollar impact
The Federal Reserve has signaled a much slower pace of a rate increase than previously expected by most of the analysts and the market. So, we can expect stable and lower appreciation of the dollar in 2016. Historically, the US dollar has appreciated against the global basket of currencies when the Fed has raised interest rates.
Visa's (V) US credit card growth came in at 18% in fiscal 3Q16 year-over-year, driven by the positive impact of its Costco and USAA volumes. However, its US debit segment fell by 8% in fiscal 3Q16 due to a negative impact from Interlink, which contributed to a third of the decline.
However, the dynamic routing decisions by merchants and acquirers also contributed to the decline. Visa expects its international volume to remain stable going forward, with higher growth in nominal terms due to a stable exchange rate.
Visa saw net profits of $6.3 billion in fiscal 2015, which ended on September 30, 2015. Here's how some of Visa's peers in the payment-processing industry have fared with their net profits in the last fiscal year:
Mastercard (MA): $3.6 billion
American Express (AXP): $5.9 billion
Fidelity National Information Services (FIS): $718 million
Together, these companies account for 5.6% of the SPDR Dow Jones Industrial Average ETF (DIA).
Commodities
Visa's (V) outbound commerce from acquired business in Canada and the United States has been stabilizing. This improvement is largely offset by a continuing slowdown of outbound commerce from China, down from the 50% growth rates in fiscal 3Q15 to barely positive right now.
Its cross-border commerce from oil and commodity-based economies remain subdued. Visa saw growth in its international payments volume on a constant dollar basis, mainly due to spending in Sub-Saharan Africa and Mexico. This growth was partially offset by weakness from Canada, Brazil, and Russia. Visa also saw weakness in the Middle East and China.