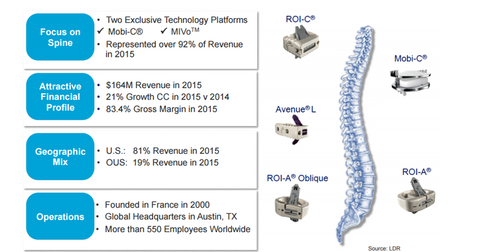 Zimmer Biomet Focuses on Inorganic Growth Strategy
By Sarah Collins

Updated
Zimmer Biomet's inorganic growth strategy
Zimmer Biomet Holdings (ZBH) is focused on expanding its product portfolio and strengthening its market position through acquisitions and innovation. Although the company makes significant investments in research and development, it is always looking for opportunities to make bolt-on acquisitions as well to enhance its market offerings and expand its portfolio.
This is evident from the company's continued investment in a number of acquisitions, even after the company has been recuperating from dismal earnings performance after the big-ticket acquisition of Biomet by Zimmer Holdings. The integration costs resulted in weak top-line as well as bottom-line results.
Article continues below advertisement
Recent acquisitions
In July 2016, Zimmer Biomet completed the tender offer for outstanding shares of LDR Holding Corporation for $37 per share. LDR provides minimally invasive solutions for spine surgeries. Zimmer Biomet is focused on strengthening its Spine segment, as there is an immense potential opportunity in the $10 billion spine market.
Additionally, Zimmer Biomet announced the acquisition of Medtech SA in July 2016. Medtech SA is a French company that manufactures ROSA robotic devices, which provide minimally invasive surgeries for people suffering from neurological and spine disorders.
This marks the company's entry into the robotics surgery market where Intuitive Surgical (ISRG) is the major player. Recently, Medtronic (MDT) entered the market through its partnership with Mazor Robotics. Stryker (SYK) is another major competitor of Zimmer Biomet in the robotics surgery space. Investors can invest in the iShares Russell 1000 Value ETF (IWD) for exposure to ZBH.
Zimmer Biomet Holdings acquired Cayenne Medical in April 2016. Cayenne Medical has helped the company boost its Sports Medicine Device segment. The company's various platform technologies such as CrossFix, Aperfix, BioWick, and SureLock should help strengthen Zimmer Biomet's soft tissue repair and reconstruction solutions offerings.