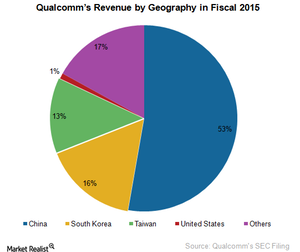 Alibaba Lawsuit among the Legal Issues Qualcomm Continues to Face
By Puja Tayal

Aug. 9 2016, Updated 8:05 a.m. ET
Lawsuits
In the previous part of this series, we saw that Qualcomm's (QCOM) licensing business grew after facing a setback from the antitrust probe from China's regulators. The company has so far signed 110 licensing deals with Chinese handset makers and is in talks with more companies. Apart from signing new licensing deals, the company is also taking measures to recover lost licensing revenue due to underreported sales.
Article continues below advertisement
Qualcomm has filed a lawsuit against Meizu, which is backed by Alibaba (BABA), for using its technology without paying licensing fees. The chipmaker filed the lawsuit in China's IP (intellectual property) court to test the nation's IP law. If Qualcomm wins this case, it may file more such cases to recover its lost licensing revenue.
New antitrust probe from South Korea
While Qualcomm has overcome the aftermath of antitrust issues with China, it is facing a new antitrust probe from its second-largest market, South Korea (EWY), which accounted for 16% of the company's revenue in fiscal 2015. According to media reports, South Korea alleges Qualcomm charged patent fees on the selling price of a product instead of charging a fixed price for a particular patent. Qualcomm president Derek Aberle confirmed the news and stated that the company has decided to pay a fine to the tune of $880 million to South Korea.
Guidance
For fiscal 4Q16, Qualcomm expects TRDS (total reported device sales) in the range of $57 billion to $65 billion. The TRDS estimate takes into consideration the impact of declining global device sales. It expects that the declining sales of premium smartphones will be partially offset by new licensing deals and the recovery of revenues from past quarters.
In fiscal 3Q16, Qualcomm earned 3.3% as licensing revenue on $62.6 billion TRDS. On expected TRDS of $61 billion, the licensing revenue for fiscal 4Q16 may be $2.0 billion. Adding up revenue for all four quarters, the company's fiscal 2016 licensing revenue is likely to be ~$7.7 billion, within its guidance range of $7.4 billion to $7.8 billion, but lower than its fiscal 2015 revenue of $7.9 billion. This may come as a result of the new terms agreed to with China, under which it would charge royalty on 65% of the selling price of devices sold within China instead of 100%. Next, we'll look at Qualcomm's chipset business and the impact of declining sales of Apple's (AAPL) iPhone on its revenue.