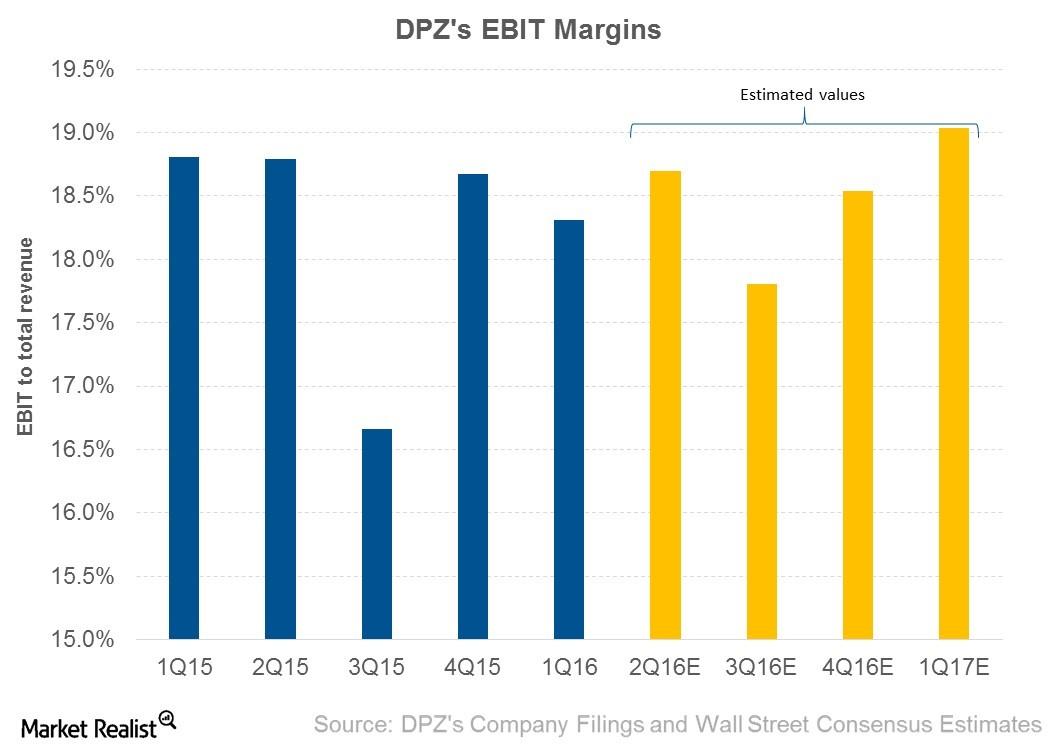 Why Analysts Expect Domino's EBIT Margins to Fall in 2Q16
1Q16 expectations
Domino's Pizza (DPZ) is expected to post EBIT (earnings before interest and tax) of $99.5 million. This would represent an EBIT margin of 18.7%—a marginal decline from 18.8% in 2Q15.
Article continues below advertisement
Factors impacting EBIT margins
The increase in investments on the reimaging of restaurants under the Pizza Theater reimaging initiative are expected to increase the company's depreciation and amortization costs, while investments in technology would increase general and administrative expenses.
These increased expenses along with increases in labor wages could have prompted analysts to lower their EBIT estimates for 2Q16. However, sales leverage due to positive same-store sales growth and favorable commodity prices could offset any declines in EBIT margins. The average price of cheese per block, for example, has come down to $1.4 in 2Q16, as compared to $1.6 in 2Q15.
Peer comparison and outlook
In 2Q16, analysts are expecting Yum! Brands (YUM), Papa John's (PZZA), and Wendy's (WEN) to post EBIT margins of 15.1%, 8.1%, and 18.8%, respectively, as compared to 14.5%, 7.8%, and 12% in 2Q15.
In 3Q16 and 4Q16, analysts are expecting Domino's to post EBIT margins of 17.8% and 18.5%, respectively, as compared to 16.7% and 18.7% in 3Q15 and 4Q15. For 2016, analysts are expecting the company's EBIT margins to improve from 18.3% in 2015 to 18.4%. Favorable commodity prices and sales leverage are expected to drive EBIT margins in the last two quarters of 2016. In 1Q17, Domino's margins are expected to improve to 19% from 18.7% in 1Q16.
In the next part, we'll see what we can expect for Domino's Pizza's earnings in 2Q16.