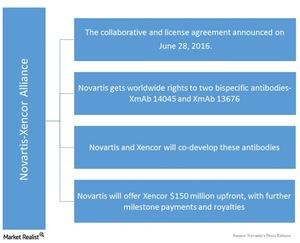 The Novartis-Xencor Collaboration Agreement: The Details
By Mike Benson

Updated
The Novartis-Xencor agreement
Novartis (NVS), one of the largest pharmaceutical companies, announced a collaboration and licensing agreement with Xencor (XNCR), a biopharmaceutical company that develops engineered monoclonal antibodies, on June 28, 2016. The agreement follows a series of acquisitions and collaborations by Novartis in order to strengthen its immuno-oncology pipeline.
Article continues below advertisement
Details of the agreement
According to its press release, Novartis received worldwide rights to codevelop two T-cell-engaging bispecific antibodies, XmAb 14045 and XmAb 13676, for the treatment of acute myeloid leukemia and B-cell malignancies. Novartis received the ex-US commercial rights while Xencor retains full US commercial rights for these two bispecific antibodies. Apart from these two bispecific antibodies, Novartis receives rights to develop four additional programs and the right to use Xencor's XmAb antibody engineering platform for developing up to ten additional antibodies. For these rights, Xencor will receive an upfront payment of $150 million, while the costs of development will be borne equally by both companies. Xencor will also receive tiered royalties on the US sales of two bispecific antibodies, worldwide sales of four additional molecules, and other molecules that might be developed using XmAb technology.
Understanding Novartis
Novartis is one of the largest pharmaceutical companies by revenue. Its headquarters are in Basel, Switzerland. The company specializes in the research, development, manufacturing, and marketing of a broad range of healthcare products. The company deals in prescription drugs as well as over-the-counter drugs. Further details about the company can be found at Novartis: Investor Insights into a Pharmaceutical Multinational.
Understanding Xencor
Xencor is a biopharmaceutical company focused on the development of engineered monoclonal antibodies for the treatment of various therapeutic areas related to immunology, oncology, and allergic diseases.
Xencor has developed an XmAb antibody engineering platform, where bispecific antibodies are designed to target two different antigens simultaneously. At present, Xencor has nine compounds based on XmAb technology in clinical development, either internally or with partners. Apart from Novartis, Xencor's codevelopment partners include Amgen (AMGN), Novo Nordisk (NVO), Merck (MRK), Alexion Pharmaceuticals, CSL Group, MorphoSys, Boehringer Ingelheim, and Janssen, a Johnson & Johnson (JNJ) company.
To diversify risk, investors could consider ETFs such as the SPDR S&P Biotech ETF (XBI). ~1% of its total assets are in Xencor.