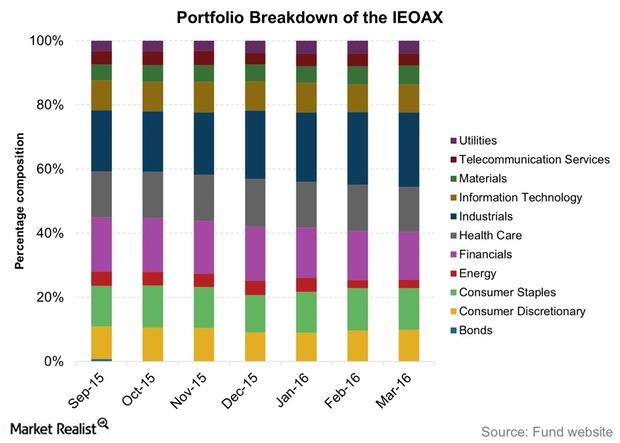 Sector Composition Changes in IEOAX until 1Q16
By David Ashworth

Apr. 28 2016, Published 4:34 p.m. ET
Ivy European Opportunities Fund
The Ivy European Opportunities Fund – Class A (IEOAX) seeks to grow capital by investing "at least 80% of its net assets in the equity securities of European companies." Although it usually invests in large-cap European companies, it doesn't limit itself to that space if an opportunity presents itself in another market-cap space.
The fund's management applies a combined top-down macro and bottom-up stock-picking approach when constructing the fund's portfolio. It combines country analysis, industry dynamics, and research on individual stocks when making investment decisions. It determines the most attractive sectors and geographies in Europe by applying top-down analysis.
Article continues below advertisement
IEOAX's assets were spread across 77 holdings as of March 2016. It was managing assets worth $224 million. As of the December portfolio, which is the latest one available, its equity holdings included BAE Systems (BAESY), Barclays (BCS), SABMiller (SBMRY), Marine Harvest (MHG), and Orange (ORAN), which comprise 8.2% of the fund's portfolio.
Portfolio changes in the Ivy European Opportunities Fund
For this analysis, we'll look at IEOAX's holdings as of December 2015, the latest available sectoral breakdown. The holdings after December reflect the valuation-driven changes to the portfolio, not the actual holding.
Industrials, consumer staples, financials, healthcare, and consumer discretionary are the fund's core invested sectors. These five combined account for nearly three-fourths of the portfolio. Industrials and consumer staples together form a third of the fund's assets, and the other three make up 12%–15% each of the fund's assets.
In the past one year until March 2016, the fund manager has reduced exposure to consumer discretionary, financials, and information technology stocks. Meanwhile, he has increased exposure to consumer staples, industrials, and utilities. In 3Q15, he increased exposure to energy stocks but has started reducing it in 2016.
With this portfolio composition, how have the main sectors influenced IEOAX's performance in 1Q16? Let's look at that in the next part.