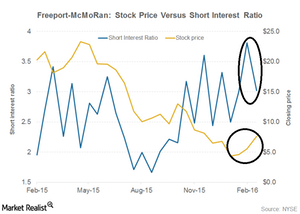 Are Freeport-McMoRan Bears Caught in a Typical Short Squeeze?
Short squeeze
Before we analyze whether Freeport-McMoRan (FCX) bears are caught in a typical short squeeze, let's first familiarize ourselves with a few key terms. Short interest tells us the number of shares that have been short sold. Exchanges release the short interest on a fortnightly basis. Short interest tells us the general market mood in regards to a particular security.
Article continues below advertisement
Short interest ratio
Now, from the short interest, we derive the short interest ratio, which is nothing but short interest divided by average daily traded volume. Short interest ratio and the short interest to market capitalization ratio basically standardize the short interest. It's but natural that more liquid and large companies can have high absolute short interest. Therefore, we standardize short interest to the market capitalization or the trading volumes.
Squaring off positions
The graph above shows Freeport-McMoRan's short interest ratio plotted against its stock price. In January, Freeport's short interest ratio was the highest since the height of the global financial crisis of 2008–2009. This is not surprising as markets started factoring in a chance of a global recession this year after poor Chinese economic data spooked global markets in the first trading week of the year itself. Miners (XME) including Teck Resources (TCK), Glencore (GLNCY), and BHP Billiton (BHP) drifted to lower price levels on fears of a global recession.
However, things started to change a bit in February as we'll discuss in the next part of the series. Freeport shorts got caught in a short squeeze and had to square off their positions as prices rose. At times, such short squeezes have a domino effect. So, as more shorts squared off their positions, prices got support. In the meantime, a series of positive developments hit Freeport as we'll explore in the next part of the series.