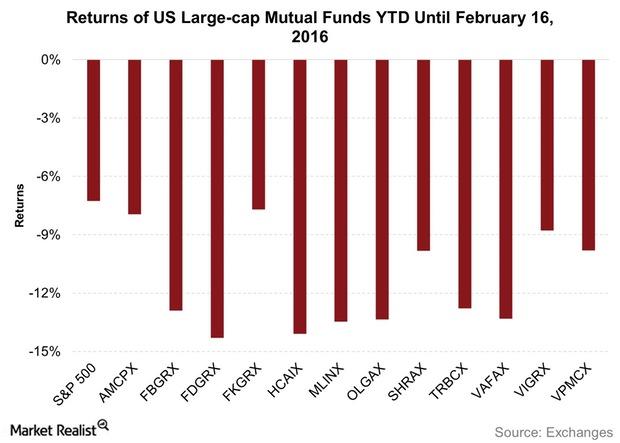 Should You Consider US Large-Cap Mutual Funds in 2016?
US large-cap mutual funds: Not a great run so far
As investors, we look for strength in numbers. That was why we chose the 12 largest US large-cap mutual funds for this review. We left out a few large funds, though, because several products from a single fund house would have dominated the list.
The graph above shows that according to point-to-point return calculation, none of the funds in this review have outdone the S&P 500 in 2016 so far. We acknowledge that the index is neither the stated nor the implied benchmark for all of the funds in this review. However, it represents the broad stock market and can be accessed through mutual funds and ETFs. To maintain parity, we've used it as a benchmark for all of the funds in this review.
Article continues below advertisement
The FKGRX and AMCPX came close to the S&P 500 in terms of returns, while the FDGRX and HCAIX were quite far from the index. In 2015, all but one fund, the SHRAX, were able to outperform the index. However, in the one-year period to February 12, 2016, only five funds were able to do this. However, returns don't tell the whole story.
When volatility matters
2015 was a volatile year for stocks and 2016 has been even more volatile. This series aims to show how volatility impacts pure returns and drags down risk-adjusted performance, which is a more accurate measure than just returns. We've also evaluated the alpha and consistency of returns provided by the funds' managers.
Though numbers are no guarantee of repetition and have their limitations, they do paint a picture of the past. What is important to understand is that these numbers need to be looked at within a context. It could be anything important to you given the prevailing circumstances: the consistency of returns, alpha generation, risk-adjusted performance, or volatility.
Article continues below advertisement
Crude oil prices (SLB) (CVX) (COP) will continue to dominate market movement in the short term. Given the geopolitical scenario and economic woes being faced by emerging markets in general, and China in particular, it's expected that volatility will remain high. This being an election year, there will be a focus on the economic policies of presidential candidates and on how they plan to navigate these testing times. Financial markets will react to these agendas as the election pitch reaches its crescendo.
The US economy has shown signs of slowing but is still much better placed than a lot of developed economies. The context you choose will decide whether US large-cap mutual funds are for you. We've tried to equip you with an armory of information to help you, in case you decide to venture into that arena. On the other hand, if you agree with BlackRock and feel that US equities should be avoided this year and that Japan could be interesting, we've done an analysis of Asia-Pacific mutual funds. You may also want to read some more of our work on our Mutual Funds page.