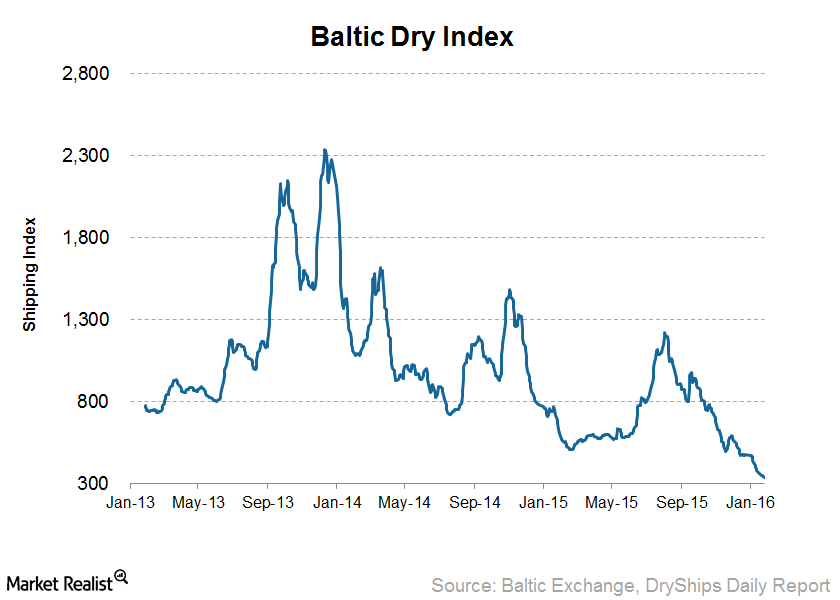 What are the Rate Expectations for Dry Bulk in 2016?
Fall in the Baltic Dry Index
The BDI (Baltic Dry Index) tracks shipping rates for major bulk commodities across a number of shipping routes. After falling 38% in 2015, the decline in the BDI has continued unabated well into 2016. For the first 27 days of January, the index fell by another 29%.
The BDI fell to an all-time low of 337 points on January 27, 2016. That was the lowest value since it started tracking shipping rates in 1985. It hit a peak of 11,793 in May 2008. While all segments were impacted by slower global trade, Capesize vessels were hit especially hard. According to Allied Shipbroking, Capesize rates, on average, fell 47% in 2015 YoY (year-over-year), compared with a fall of 28% for Panamax, 29% for Supramax, and 30% for Handysize.
Article continues below advertisement
Expectations from 2016
The current lower rates are driven by a supply-demand mismatch. While the demand for commodities (DBC) such as iron ore and coal remain weak from the largest consumer, China, the outlook also doesn't provide much hope as we'll see later in the series. China's slow growth in general and its shift from investment-led growth to consumption-led growth doesn't bode well for the demand for commodities or dry bulk shipping.
The supply side, on the other hand, remains strong well into 2016 and part of 2017 on the back of newbuilds ordered a few years back, which will start getting delivered in 2016. Just as demand falters, a huge glut of supply is ready to hit the market. As we'll discuss later on in the series, though increased scrapping and minimal ordering activity could provide some relief on the supply side, the outlook for 2016 isn't looking good for dry bulk names such as Navios Maritime Partners (NMM), Navios Maritime Holdings (NM), Star Bulk Carriers (SBLK), and Diana Shipping (DSX). Shipping companies make up 19.7% of the Guggenheim Shipping ETF (SEA).