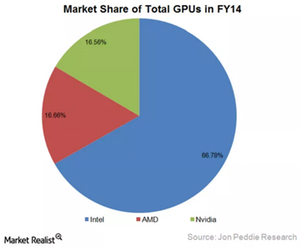 Nvidia Loses Patent Lawsuit against SSNLF, QCOM
By Puja Tayal

Updated
Nvidia's patent lawsuit against Samsung and Qualcomm backfires
Nvidia (NVDA), a US-based manufacturer of gaming semiconductors, has been found guilty by the US ITC (International Trade Commission) judge for infringing on two of three patents in question. Nvidia claimed that the patents were outdated. If the company is found guilty, products using the two patents in question could be banned from the United States.
The ruling, which is subject to review by the full ITC, backfired for Nvidia, as the company itself had filed a lawsuit against Samsung (SSNLF) and Qualcomm (QCOM) a year back for using its patents. While this seems like a losing battle for Nvidia, the company is confident that a review by the full ITC in February 2016 will change the ruling in its favor.
Article continues below advertisement
Story behind the lawsuit
Nvidia had accumulated GPU (graphic processing unit) technology patents through research and development. It shares some patent with Intel and Advanced Micro Devices (AMD). Nvidia's licensing team approached Samsung regarding patent portfolio license. Samsung shifted this issue to its supplier Qualcomm and both the companies rejected to pay for the license.
In September 2014, Nvidia filed a lawsuit against the two companies, asking ITC to ban Samsung's smartphones and tablets equipped with Exynos and Qualcomm's Snapdragon SoCs (system-on-chip) as these chips use Nvidia's GPU technology. It filed another lawsuit in the federal court of Delaware claiming damages.
In November 2014, Samsung filed a retaliatory case claiming infringement of its three patents in Nvidia's Shield tablet computers. The patents are related to basic circuit designs that enable chipmakers to manufacture high-performance chips at lower costs. The company also filed a civil suit in Virginia.
On this, Nvidia argued that Samsung has chosen three outdated patents that are no longer used in modern chip designs. In fact, one of the patents will expire in 2016.
Court ruling
In December 2015, administrative law judge of the US ITC David Shaw found Nvidia guilty of infringing two of the three patents and ruled the third patent as invalid. This ruling was important for companies that buy SoCs from Qualcomm and companies that license GPU.
In the next part of the series, we will see the implication of this legal battle on all three parties. You can invest in growth stock through the Vanguard Growth ETF (VUG), which has 0.19% exposure in NVDA, and 0.87% in QCOM.