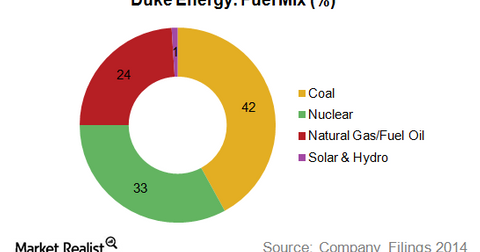 Duke Energy: Analyzing the Fuel Mix of the Largest Utility
By Vineet Kulkarni

Updated
Introduction
Duke Energy (DUK) is the largest electric power holding company in the United States, supplying energy to 7.3 million customers in the Carolinas, the Midwest, and Florida. It also distributes natural gas to customers in Ohio and Kentucky. Duke's commercial and international business operations also own and operate power generation assets in North America and Latin America.
Article continues below advertisement
Fuel mix
You can see the fuel mix of Duke Energy's generation facilities in the chart above. Duke's generation is primarily reliant upon coal as an energy source. In 2014, 42% of electricity generated by Duke Energy came from coal. It's currently shifting its dependence on coal to renewable energy sources due to changes in the regulatory environment. Duke has a total of 57,500 megawatts of electricity generating capacity. Apart from generating electricity from its own plants, Duke Energy also procures power from third parties to cater to customer needs. The second major primary source of power generation is nuclear energy, accounting for 33% of the fuel mix.
Peer comparison
Many utilities (XLU)(VPU), including Duke Energy, are striving to adhere to the environment regulations of the United States EPA (Environment Protection Agency). NextEra Energy (NEE) has the lowest reliance on coal in its fuel mix. Also, natural gas is the chief fuel used in NextEra's generation facilities while coal accounts for just 3%. On the other hand, American Electric Power (AEP) generates more than 60% of its electricity using coal. Coal-fueled power plants are harmful to the environment as they lead to emissions of greenhouse gasses.