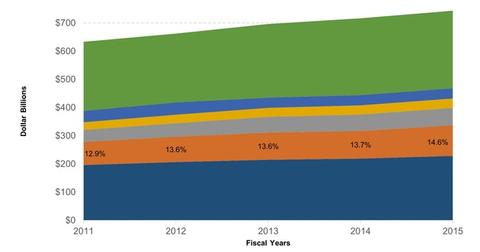 Kroger's Strategies for Market Share Gains
By Sonya Bells

Updated
Kroger generates market share gains for the 10th straight year
Despite the rising competition in the grocery space, Kroger (KR) registered market share gains for the tenth consecutive year. According to the Nielsen Data Services used by Kroger, the company's overall market share increased by 60 basis points (or bps) in fiscal 2015 in the markets in which it operates.
Kroger was also the market leader, holding the first or second position, in 42 of the 49 major markets in which it operated. Kroger classifies those markets as major markets in which it operates more than nine stores. At the end of fiscal 2015, it operated in 49 such major markets. Walmart (WMT) was its closest competitor in most of these markets
The year-end dates for fiscal 2015 for these retailers follow:
Kroger: January 31, 2015
Walmart: January 31, 2015
Target: January 31, 2015
Costco: August 30, 2015
Albertson acquired Safeway in January 2015, however, the entity is yet to be listed.
Article continues below advertisement
Market share gain
Market share gain is among the top goals of the company. Kroger follows a disciplined low-cost strategy and works to cut costs from its operations. It generally achieves these cost savings by lowering its product prices, building customer loyalty, and gaining market share.
The retailer is increasingly following the strategy of offering more specialty and organic products in order to compete with other retailers and continue to gain market share. Selling organic food attracts high-end customers and also helps to drive profits. The company is also expanding into affluent markets in Baltimore and Washington, D.C.