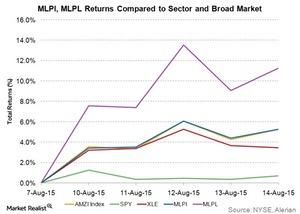 UBS Group's MLPI and MLPL Outperformed Energy ETFs Last Week
By Rekha Khandelwal, CFA

Aug. 18 2020, Updated 5:14 a.m. ET
The ETRACS Alerian MLP Infrastructure Index ETN
The ETRACS Alerian MLP Infrastructure Index ETN (MLPI) rose 5.3% in the week ended August 14. Issued by UBS Group (UBS), the ETN closely tracks the Alerian MLP Infrastructure Index (AMZI), its underlying index. MLPI has an annual tracking fee of 0.85%, accrued on a daily basis.
The MLPI ETN outperformed both the broad-market SPDR S&P 500 ETF Trust (SPY) and the Energy Select Sector SPDR ETF (XLE). SPY rose 0.7% and XLE rose 3.4% during the week.
Article continues below advertisement
The Alerian MLP Infrastructure Index invests in MLPs engaged in petroleum transportation, natural gas transportation, and gathering and processing. AMZI's constituents in the natural gas gathering and processing segment include DCP Midstream Partners (DPM), which currently forms ~2% of the index. Petroleum transportation MLP constituents include Buckeye Partners (BPL) and NuStar Energy (NS). The two stocks together form ~8% of the index.
ETFs and ETNs
ETNs are senior unsecured debt securities. ETN investors are exposed to the issuer's credit risk. ETNs provide investors an easy way to gain exposure to different market indices. The coupons associated with the ETNs are reported by investors as ordinary income. The above graph compares the returns of MLPI against those of AMZI, SPY, and XLE in the week ended August 14.
Like MLPI, the Alerian MLP ETF (AMLP) also tracks AMZI. While there's credit risk associated with ETNs, investments in ETFs are exposed to tracking error. Tracking error measures the difference in returns between the ETF and its benchmark index over the most recent one-year period. Note how closely MLPI tracks AMZI here as opposed to the wider tracking error that AMLP displayed in the previous part of this series.
MLPL ETN
The ETRACS 2xMonthly Leveraged Long Alerian MLP Infrastructure Index ETN (MLPL) also uses AMZI as its underlying index. However, MLPL uses leverage. This makes it risky compared to MLPI. MLPL provides two times the leveraged long exposure to AMZI's compound monthly performance. It has an annual tracking fee of 0.85%.
As the graph above shows, MLPL rose 11.3% in the week ended August 14. In comparison, AMZI rose 5.3% in the week.