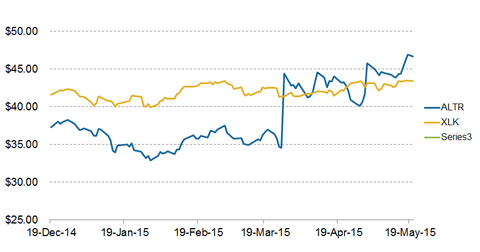 Altera Trades Well above Its Moving Averages
By Adam Rogers

Updated
About the firm
Altera (ALTR) is a global semiconductor company that designs and sells a variety of products:
programmable logic devices, which consist of field-programmable gate arrays and complex programmable logic devices
highly integrated power devices, known as power system-on-chip devices
predefined design building blocks, known as intellectual property cores
The company is exposed to a high risk of foreign exchange fluctuations. International revenue from outside the US and Canada represented 84% of total revenue in 2014 and 82% in 2013. ALTR constitutes 0.27% of the Technology Select Sector SPDR Fund (XLK) and 0.08% of the SPDR S&P 500 ETF Trust (SPY).
Article continues below advertisement
Moving averages and closing price
ALTR closed at $46.67 on its most recent day of trading on May 20, 2015. That's higher than its 20-day, 50-day, and 100-day moving averages. The firm's 20-day moving average price is $43.59, ALTR's 50-day moving average price is $41.32, and its 100-day moving average price is $38.43.
So, ALTR is trading 7.47% above its 20-day average, 13.38% above its 50-day average, and 21.9% above its 100-day moving average.
ALTR share price surges on news of Intel acquisition
On March 27, 2015, it was announced that Intel (INTC) was in talks to acquire ALTR in an estimated $10 billion deal, which would make it Intel's largest acquisition ever. Altera's share price rose from $34.58 to $44.39, an increase of 28%, in a single day following the announcement.
In April 2015, ALTR rejected Intel's acquisition offer of $54 per share, and the deal didn't seem like it would materialize. Nevertheless, Altera's share price rose by 6.37% to $47.25 on May 18, 2015, on renewed Intel buyout speculation.
Altera's year-to-date return is an impressive 26.83%.
Article continues below advertisement
Market share increases in the programmable logic devices segment
Altera's market share in PLDs (programmable logic devices) has grown from 36% in 2009 to 38.5% in 1Q15. In the PLD market, Altera competes with Microsemi (MSCC).
Future outlook
The long-term outlook for ALTR is positive. It's the only company in the semiconductor segment that has a better gross margin—67.05%—than Intel. Its debt-to-equity ratio is also low at 0.45x, putting it below the industry average.
The next article in this series will review Skyworks Solutions and its stock movement as it relates to its moving averages.