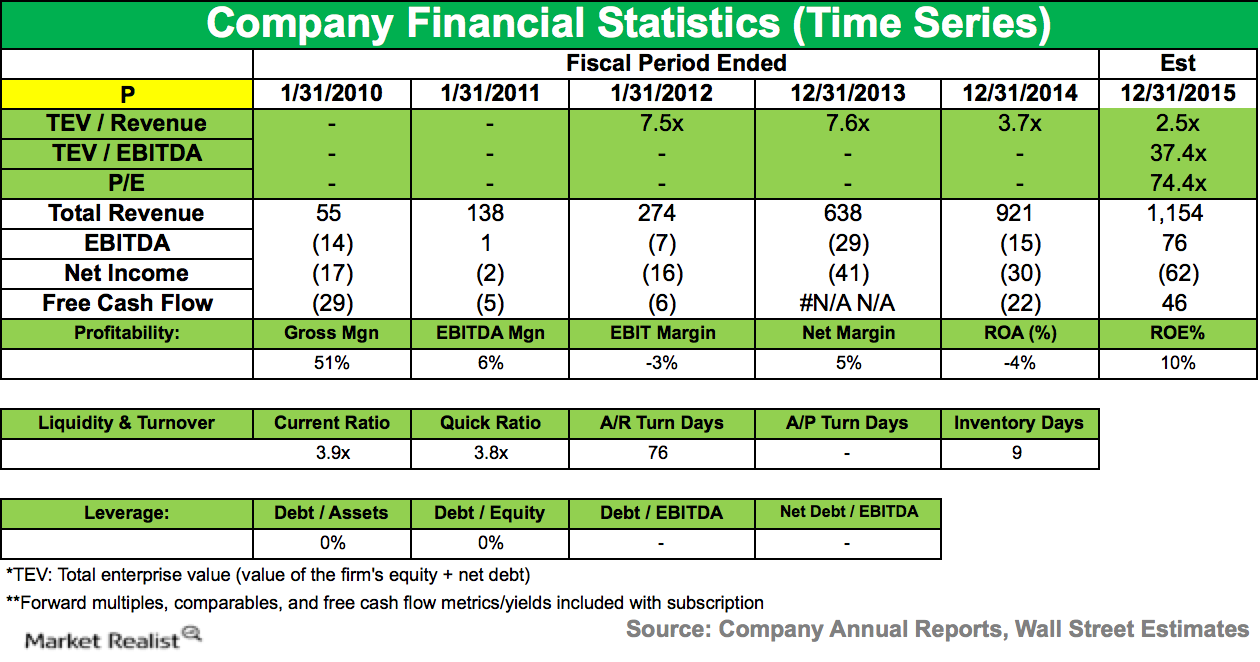 Pandora Media Is a New Position for Eminence Capital
Eminence Capital and Pandora Media
During the fourth quarter of 2014, Eminence Capital initiated a position in Pandora Media (P). The fund held 8,569,012 shares of Pandora, which accounted for 2.22% of the fund's 4Q14 portfolio.
Article continues below advertisement
About Pandora Media
Pandora Media, one of the leading Internet radio service providers in the US, offers a personalized experience to all of its listeners. The company generates revenue from radio advertising.
Pandora's Internet radio service is widely available on car audio systems, smartphones, tablets, computers, and other Internet-connected devices. The majority of the company's radio listeners use mobile devices to get connected.
Listeners can create up to 100 personalized stations with Pandora. Pandora's Music Genome Project and playlist-generating algorithms predict listeners' music preferences and play content suited to individual listeners' tastes.
Pandora provides music content to listeners in two ways:
a free, advertising-based service
a paid, advertising-free subscription service called Pandora One
As of December 31, 2014, Pandora had more than 250 million registered users. Out of these, over 225 million users were accessing the service through smartphones and tablets. In 2014, Pandora streamed 20.03 billion hours of Internet radio.
Pandora's 4Q14 revenues
For the fourth quarter of 2014, Pandora's revenue grew 33% YoY (or year-over-year) to $268 million against its guidance range of $273 million to $278 million. This was due to "isolated holiday weakness following relatively soft Black Friday and Cyber Monday sales in retail, telecom, and CE verticals."
Mobile revenue was up 43% YoY to $209.5 million, contributing 78% of the total revenue. Total advertising revenue grew 36% YoY to $220.1 million. Subscription and other revenues increased 24% YoY to $47.9 million.
Adjusted EBITDA (or earnings before interest, tax, depreciation, and amortization) totaled $43.8 million, up 68% YoY. GAAP (or generally accepted accounting principles) diluted EPS (or earnings per share) was $0.06.
Article continues below advertisement
Management mentioned in a 4Q14 release that, per comScore's December multi-platform top properties report, Pandora was the "number-one mobile service in the US in terms of engagement or minutes spent per visitor." In that measurement, Pandora's numbers even bested those of Facebook (FB), Twitter (TWTR), and Google (GOOG) (GOOGL).
For the full year 2014, Pandora's revenue was $920.8 million, up 44%. Advertising revenue was $732.3 million, up 40%. Adjusted EBITDA was $58.2 million, showing a 158% YoY increase. GAAP diluted EPS was a loss of $0.15.
Upon the release of Pandora's 4Q14 earnings, the company's shares fell 21% in after-hours trading because revenues were below expectations.
1Q15 and full year 2015 outlook
For 1Q15, Pandora expects revenue of between $220 million and $225 million. The company anticipates adjusted EBITDA to be a loss of $30 million to $35 million.
For the full year 2015, Pandora expects revenue to be in the range of $1.15 billion to $1.17 billion. The company anticipates adjusted EBITDA between $70 million and $80 million.
You can gain exposure to Pandora Media by investing in the iShares Russell 1000 Growth ETF (IWF) and the Vanguard Small-Cap Growth ETF (VBK). Pandora accounts for 0.0275% and about 0.26% of IWF and VBK, respectively.
In the next part of this series, we'll cover Eminence Capital's position change in Darling Ingredients.