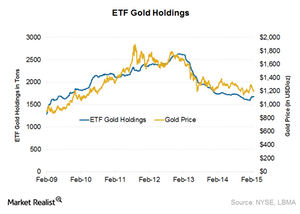 Gold holdings steady in recent weeks
Monitoring ETF holdings
Outflows from ETFs led to a ~28% fall in gold prices in 2013—the equivalent of selling 881 tons of gold. That's why it's important for gold investors to monitor changes in ETF holdings.
Article continues below advertisement
Not much action in gold ETF holdings
There are 14 known gold-focused ETFs. These include the SPDR Gold Trust (GLD), the largest physical-gold-backed ETF.
In our recent series, What today's investors need to know about tomorrow, we reported that globally, there were 1,676.9 tons of gold holdings on February 5, 2015. This hasn't changed much. As of February 25, there were 1,679.4 tons of gold holdings.
In January, gold holdings surged because of the Swiss National Bank's decision to remove the euro cap. As well, the European Central Bank introduced easing measures amid slow growth and uncertainty over the then upcoming Greek elections. Later, with the surge in the US dollar and the extension of Greece's bailout, demand for gold fell.
Impact on precious metals
An increase in precious metal ETF holdings boosts investor confidence. This supports the price of precious metals, which is positive for stocks such as Goldcorp (GG), Barrick Gold (ABX), Newmont Mining (NEM), Kinross Gold (KGC), Yamana Gold (AUY), and Silver Wheaton (SLW). It's also positive for the VanEck Vectors Gold Miners ETF (GDX). SLW makes up 4.6% of GDX's holdings.