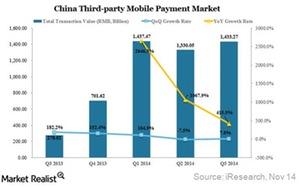 Alibaba's Taxi-Booking App Will Merge with Tencent's App
By Patricia Garner

Updated
Alibaba's taxi-booking app
KuaiDi Dache, a mobile taxi app backed by Alibaba Group (BABA), completed its merger with Tencent's (TCEHY) mobile taxi app, Didi Dache, last month. The combined entity was valued at roughly $6 billion. After the merger, the two companies will continue to operate as independent brands.
According to EnfoDesk, Kuaidi Dache, which had 54.4% market share in China in 3Q14, merged with Didi Dache, which had 44.9% market share, to become a dominant player in the mobile taxi app market in China.
The top two competitive taxi apps combined to pose a competitive threat to their biggest rival Baidu (BIDU), which completed acquisition of a minority stake in Uber in December of last year. Uber is a US-based taxi-hailing app.
Article continues below advertisement
KuaiDi Dache is one of the leading and most widely used mobile taxi booking app providers in China. The app combines integrated mapping and third-party payment technology to provide widely accessible booking services to over 1 million taxis in more than 300 cities in China, including Hong Kong. The company launched in 2012, and also provides a range of standard and luxury cars to suit a variety of lifestyles.
Didi Dache raised $700 million in funding from Tencent in December last year. Following this, last month Kuaidi Dache also secured $600 million in investment from Softbank, Alibaba, and Tiger Global. The two companies merged to draw China's 500 million smartphone users to each of their competing mobile payments services.
Alibaba and Tencent see the taxi apps merger as a key growth driver of their mobile payments business. Users using Kuaidi Dache app prefer to use Alipay for their mobile payments, while users using Didi Dache prefer Tencent's mobile payment system. With the integration of the two apps, the two companies plan to tap the fastest growing mobile payment market in China.
Mobile payment market in China
Mobile payments are becoming very popular in China as mobile Internet penetration and e-commerce are growing. As the above graph shows, in Q3 2014, total transaction value of China's third-party mobile payment market was 1,433.27 billion renminbi (or $233.24 billion) with an increase of 415.5% from the corresponding period in the previous year. This increase was primarily a result of mobile e-commerce, mobile group buying, mobile business trips, and mobile-related consumption. Alipay is number one in terms of total transaction value in the mobile payment market in China in 2Q14, followed by Tenpay and Lakala, according to iResearch data.
To gain portfolio exposure to Baidu, investors can consider ETFs such as the SPDR S&P Emerging Asia Pacific ETF (GMF). Baidu makes up 2% of GMF's portfolio. Investors can also consider ETFs such as the iShares China Large-Cap ETF (FXI), which has major holdings in financial banks in China.