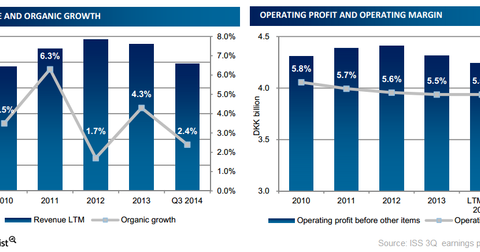 Greenlight adds new position in Danish outsourcing firm ISS
By Samantha Nielson

Updated
Greenlight: ISS stable with modest margin growth
Greenlight Capital noted said it added a new long position in Danish outsourcing firm ISS A/S (ISS) (ISSJY). The fund stated in its letter that it had previously tried to buy ISS A/S stock in a potential 2011 IPO that was delayed for three years. The fund believes the business is stable with revenue growth and "modest" growth in margins.
Greenlight compared the business with that of hospitality and facilities services provider Aramark (ARMK), which the fund said "trades at around 20x earnings per share." The position was added at an average price of 162.73 Danish krone (or DKK) ($25.34) per share, which is lower than the 12x 2015 estimated earnings. ISS finished 2014 at 178.10 DKK.
Article continues below advertisement
ISS overview
The ISS Group was founded in Copenhagen, Denmark, in 1901 and has grown to become one of the world's leading facility services companies. ISS offers a wide range of services such as:
catering
cleaning
facility management
property and support services
security
ISS Group's global revenue amounted to 78.5 billion DKK ($12.21 billion) in 2013. ISS has more than 520,000 employees and operations in over 50 countries across Europe, Asia, North America, Latin America, and the Pacific.
ISS raised gross proceeds of 8.04 billion DKK ($1.5 billion) in its IPO on the Copenhagen stock exchange in March 2014.
ISS acquires GS Hall
ISS recently announced it acquired the UK, Ireland, and European activities of UK-based GS Hall plc. GS is a leading technical services company focused on mechanical and electrical engineering, energy management, and compliance. The acquisition was aimed at meeting the demand for integrated facility solutions as well as to enhance ISS's offering for the emerging demand in energy management. GS Hall has an enterprise value of around $80 million.
Article continues below advertisement
Organic revenue growth in Europe, macroeconomic challenges
ISS posted revenue of 55.1 billion DKK ($8.58 billion) in the first nine months of 2014, down from 58.8 billion DKK in 2013. Organic growth amounted to 2.4%. Its revenue saw negative impacts from the divestment of noncore activities and exchange rate movements. It posted operating margin of 5.3% in the first nine months and 6.4% in 3Q14.
Emerging markets represented 24% of total revenue and delivered 10% organic growth. Western Europe represented 51% of total revenue and saw a flat organic growth. ISS said its overall organic growth was mainly driven by continued strong performance in emerging markets and the Pacific region, as well as for Integrated Facility Services in general. This growth was partly offset by a continued challenging macroeconomic environment in Europe and difficult market conditions in certain European countries.
Greenlight's holdings
Greenlight Capital noted in its letter that new positions were added in ISS A/S (ISSJY), Time Warner (TWX), and Keysight Technologies (KEYS). Positions exited were Osram Licht AG (OSAGY), Cigna (CI), and a short position in Cliffs Natural Resources (CLF). Greenlight didn't disclose the position size and value for any of the positions in its investor letter. The fund also benefited from its long position in Apple (AAPL).
The next part of this series will highlight Greenlight's new position in Keysight Technologies.