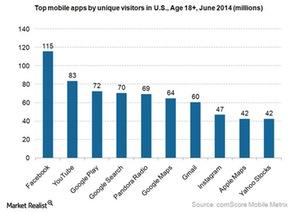 Analyzing the future of mobile advertising
By Patricia Garner

Jan. 12 2015, Updated 2:32 p.m. ET
Mobile advertising's growth will likely decline
There's an interesting trend in mobile advertising growth. Right now, it's witnessing healthy growth. It had a 105% expansion in 2013. However, it will only grow 22% in 2018. It will generate $95 billion in revenues, according to eMarketer's estimates. Growth will likely decrease because the mobile advertising market will likely be saturated by 2018. There will be more smartphone and tablet usage. As a result, ad spending will likely level off.
Article continues below advertisement
Two trends that shape mobile advertising's future
Programmatic buying – Mobile programmatic buying is becoming an important tool for advertisers. It allows them to reach the targeted audiences in real time. Advertisers reach audiences on the devices they use the most. As more mobile advertisers adopt programmatic buying, their digital campaigns will get better results.
Contextual awareness – Smartphones gather a lot of data about consumers—like their preferences, what kind of content they like or dislike, mobile apps they frequently visit, and their location. Advertisers can tweak their campaign to fit consumers' needs.
For ads, programmatic buying and contextual delivery will help advertisers target users on mobile apps and websites.
Today, people are spending more time on mobile apps—compared to mobile browsers or desktops. Within the world of mobile apps, Facebook (FB) and Google (GOOG) (GOOGL) apps dominate mobile usage. According to a report from comScore Mobile Metrix and as the above chart shows, Facebook leads the mobile apps market in the US with 115 million unique visitors. It led the market due to its popularity. To learn more, please read Why Google and Facebook dominate in terms of mobile app use.
Google's apps take up five of the next six positions in this market. All of Google apps are available by default on the Android smartphone platform. By making these apps a default on devices, the users access them more often. Facebook owns Instagram. Instagram takes the eighth position. In between, there's Pandora's (P) Radio app. Apple's (AAPL) Maps app and Yahoo's (YHOO) Stocks app take the ninth and tenth positions, respectively, in this market.