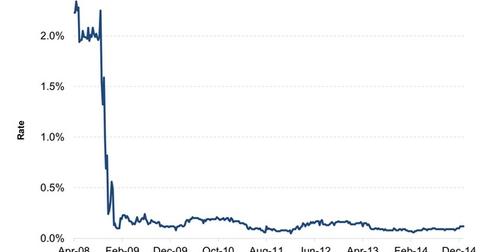 Why did the Fed change its language in its December meeting?
By David Ashworth

Jan. 12 2015, Updated 8:02 a.m. ET
The Fed's language
The markets closely watch the language that the Federal Reserve (or Fed) uses while announcing its policy stance and guidance. This is because a change may indicate a shift in policy, even if not an outright turnaround.
Even an indication of a shift can have a significant impact on not only domestic (SHY) (IEF) (SPY) markets, but on international markets and ETFs like the Vanguard FTSE All-World ex US Index Fund (VEU) and the iShares MSCI ACWI Index Fund (ACWI) as well.
Article continues below advertisement
What changed?
The Fed had been using the phrase "considerable time" in its policy announcement, for, well, a considerable time. However, in the December 2014 statement, the phrase was replaced by "patience". Though the Fed insisted that there was no change in its policy stance, markets wanted to know the reason for the shift in language.
If you want to read more about the importance of the word "patience," refer to our article "Patience" is important in the Fed's policy moves.
Why the change?
The FOMC (Federal Open Market Committee) minutes highlighted the reason for this change in language. The committee members felt that "such language would provide more flexibility to adjust policy in response to incoming information than the previous language, which had tied the beginning of normalization to the end of the asset purchase program."
Essentially, the Fed wanted to move away from referencing its change in policy towards the federal funds rate from its $85 billion bond-buying program, which ended in October 2014. It didn't want markets to think that since the bond-buying program had ended, that it would automatically mean that the Fed would increase the interest rate.
The members thought that tying their view to current economic conditions was more apt in the present scenario. Since they could not refer to the then-ended program, they had to change the language of the guidance. Hence, even with a change of language, they saw their approach as consistent with the October statement.
In the next article, we'll look at the external risks that the Fed sees.