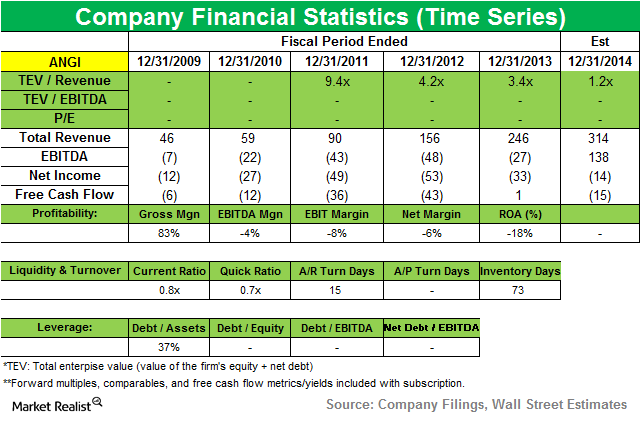 Citadel Advisors ups position in Angie's List
By Samantha Nielson

Nov. 27 2019, Updated 1:55 p.m. ET
Citadel Advisors adds to stake in Angie's List in October

Kenneth Griffin's Citadel Advisors added to its positions in Newfield Exploration Co. (NFX), JAKKS Pacific, Inc. (JAKK), Rosetta Resources, Inc. (ROSE), Angie's List, Inc. (ANGI), Blackhawk Network (HAWK), and PHH Corp (PHH).
Citadel Advisors filed a 13G with the SEC in October and updated its position in Angie's List, Inc. (ANGI). As per the filing, Citadel owns 5.8% of the company with 3,375,455 shares. This is up from 406,946 shares as per the fund's 2Q14 13F filing.
Overview of Angie's List
Article continues below advertisement
Angie's List is an online consumer review business that helps its members to research, hire, rate, review, and purchase local services for critical needs like home, healthcare, and automotive services. The company had nearly 3 million paid memberships at September 30, 2014. It generates revenue from both members and service providers.
The company derives membership revenue from subscription fees, and in certain cases prior to the current year, nonrefundable enrollment fees for monthly, annual, and multi-year memberships. As of September 30, 2014, approximately 95% of its total membership base purchased annual or multi-year memberships. The company believes the subscription fees represent a significant source of working capital and provide a relatively predictable revenue stream.
Shares up at end of September on sale speculation

Angie's List stock was up 22% at the end of September after The Financial Times said in an unconfirmed report that the company had hired investment bankers to explore strategic options, including a sale. In August, the company said it is laying off around 5% of its workforce as part of a plan "to improve sales productivity and performance."
The company said in July that its net loss widened to $18.4 million for the second quarter of 2014 as marketing expenses surged 28% to $35.9 million. Angie's, which competes with Yelp, Porch.com and Google Local, also forecast quarterly revenue below estimates.
Revenue and earnings miss consensus
For 3Q14, Angie's revenue and earnings missed estimates. Total revenue grew 24% to $81.3 million, while net loss for the quarter narrowed to $5.2 million from net loss of $13.5 million in 3Q13. The management said it increased margins due to "reduced marketing spend and improved operating efficiency."
The company said its service provider revenue was the largest and fastest growing component of total revenue at $63 million for the quarter, representing a 30% growth rate year-over-year. Membership revenue grew 7% compared to the corresponding period last year. Advertising revenue was up 33% while e-commerce revenue rose approximately 9% year-over-year.

The next part of this series will highlight Citadel Advisors' position increase in Blackhawk Network in July.