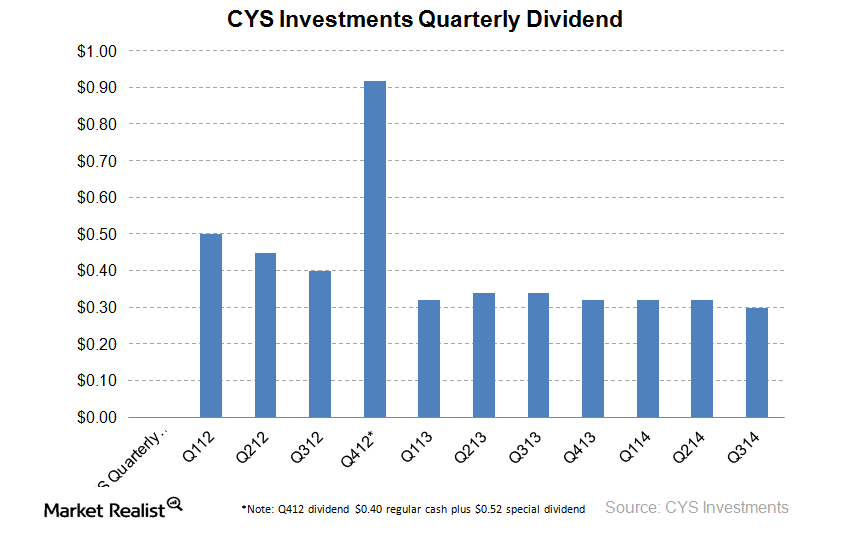 CYS Investments: An important mid-sized agency mortgage REIT
By Brent Nyitray, CFA, MBA

Nov. 20 2020, Updated 3:51 p.m. ET
CYS Investments is a mid-sized agency mortgage REIT
CYS Investments (CYS) is a diversified agency mortgage REIT that invests all across the agency mortgage-backed security (or MBS) space. Mortgage-backed securities are pools of similar mortgages packaged into a security. This increases the liquidity of individual mortgages, which makes them more attractive to investors and has the additional benefit of lowering rates to the borrower. You can see how a pool is broken down into different tranches below.
CYS invests in two basic types of MBS:
Agency pass-through securities, which are garden-variety To-Be-Announced mortgages
Seasoned agency MBS
CYS also invests in collateralized mortgage obligations, which are bonds backed by MBS that offer the investor specific exposure to prepayments, credit, et cetera. As a REIT, CYS must pay out 90% of its earnings as dividends or else it's subject to corporate taxes.
CYS Investments is a major purchaser of MBS
Article continues below advertisement
Mortgage REITs are some of the biggest institutional purchasers of mortgage-backed securities. As such, they're some of the biggest ultimate lenders in the mortgage market. Pension funds, REITs, foreign investors, and the Fed are the biggest buyers of mortgage-backed securities. Quantitative easing disrupted that a bit, with the Fed being the biggest purchaser by far.
To put the Fed's buying in perspective, Annaly Capital—the biggest mortgage REIT in the U.S.—currently has about $87 billion in assets. At its peak, the Fed was purchasing almost half of Annaly's balance sheet (about $40 billion) of agency MBS a month.
As the Fed exits QE, REITs are returning to their role as large providers of mortgage financing in the U.S.
CYS Investments versus its peers
CYS purchases only agency mortgage-backed securities. This means it buys only government-guaranteed (or government-sponsored) securities—those issued by Fannie Mae, Freddie Mac, or Ginnie Mae. So the company takes no credit risk. All of its risk is interest rate risk.
CYS mainly invests in fixed-rate mortgages. This means the best comps are American Capital Agency (AGNC) and Annaly Capital (NLY). Other agency REITs, like MFA Financial (MFA) or Capstead (CMO), invest primarily in adjustable-rate securities. These REITs tend to have less interest rate risk than AGNC for similar amounts of leverage. Finally, there are non-agency REITs like Newcastle (NCT), which invest in non-agency MBS. This means they take credit risk.