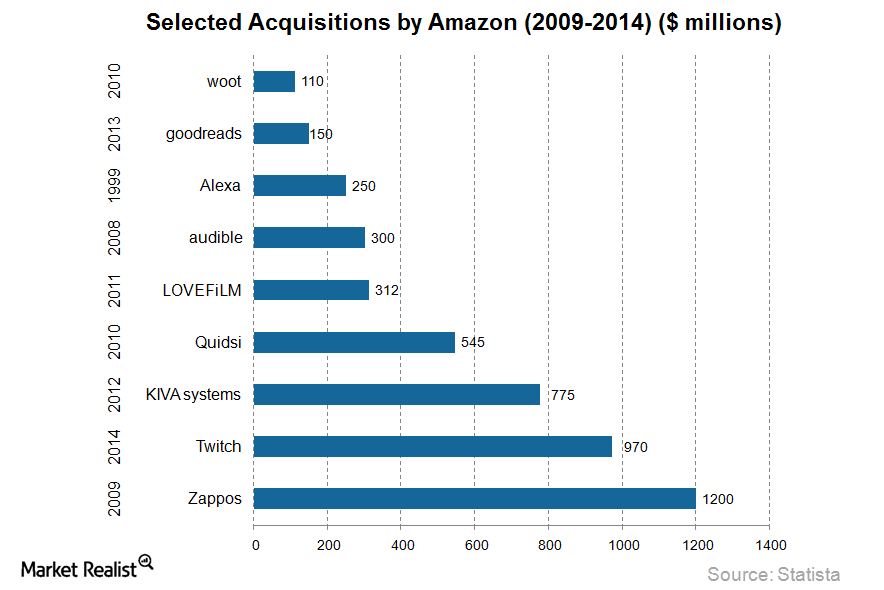 Amazon purchased Twitch to venture into the live streaming space
By Anne Shields

Sep. 1 2020, Updated 11:10 a.m. ET
Amazon completes its acquisition of Twitch
On September 26, 2014, Amazon finalized its acquisition of Twitch Interactive, Inc, a video game streaming website, for $970 million in cash. Twitch's buyout by Amazon was announced in August 2014. As the chart below shows, after the Zappos acquisition in 2009, the Twitch acquisition is the most expensive acquisition in Amazon's portfolio. To read more about this acquisition, please click here.
Article continues below advertisement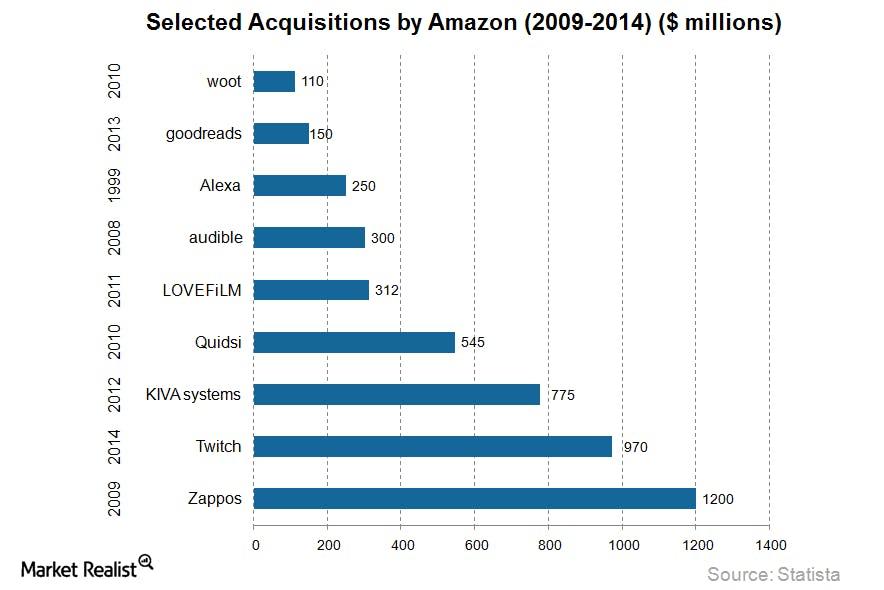 Twitch offers a video platform and community for gamers
Twitch, founded in 2011, offers live video game streaming with gaming content and live events. Twitch has ~55 million monthly users and approximately ~15 billion minutes of content. On average, users spend more than 100 minutes a day on the Twitch website. It offers a platform for the content produced by individual gamers, pro players, publishers, developers, media outlets, conventions, and sports organizations.
Twitch gained popularity with the personal computer or PC crowd, moving on to the Sony Playstation and Microsoft Xbox One .
Acquisition aimed to expand its presence in the video streaming space
Article continues below advertisement
According to Qwilt, in March 2014, Amazon's Instant Video streaming and content delivery arm surpassed Apple (AAPL) iTunes and Hulu in web traffic in the U.S. Amazon recently launched the Amazon Fire TV media streamer box that has some gaming capabilities. The Twitch acquisition seems in line with Amazon's aim to gather more strength in the video streaming and gaming market.
The Twitch acquisition expands Amazon's horizon in e-commerce
Owing to its content and live streaming features, Twitch is considered equivalent to Google's (GOOGL) YouTube in the video game streaming space. Unconfirmed rumors stated that before Amazon took on the reins of Twitch, Google wanted to acquire it. But, due to antitrust issues arising with respect to YouTube, Google backed out of the deal.
Twitch online video streaming is expected to join Amazon's book publishing, video streaming, and game production. Through Twitch, Amazon can provide e-commerce links to its content, like options to purchase music played on a video through Amazon Music or video games through publishers. Twitch can work as a marketing tool to sell Amazon's gaming products.