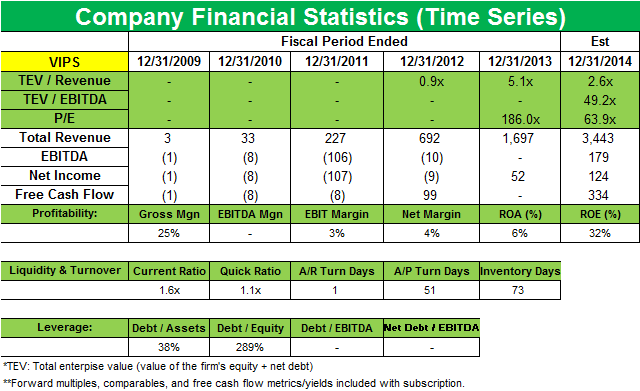 Must-know: Why Tiger Global increases stake in Vipshop
Tiger Global increase stake in Vipshop
Tiger Global Management's latest 13F shows new positions in Avis Budget Group Inc. (CAR), Zillow Inc. (Z), and Trulia Inc. (TRLA). The fund sold stakes in Yahoo! Inc. (YHOO) and Amazon Inc. (AMZN). It raised positions in Vipshop Holdings (VIPS) and Charter Communication (CHTR).
Tiger Global increased its stake in Vipshop Holdings (VIPS) which now accounts for 4.54% of the fund's 1Q14 portfolio. The position was started in 4Q13 and accounted for 1.52% of the portfolio.
Vipshop is a Chinese online discount retailer for brands. It believes it is the preferred online flash sales channel in China for popular domestic and international brands. In 2013, Vipshop worked with 4,287 brand partners.
Article continues below advertisement
The company, which listed in the U.S. in 2012, offers high-quality branded products to consumers in China through flash sales on its website, vipshop.com. Flash sales represent a new online retail format combining the advantages of e-commerce and discount sales channels. Unlike leading flash sales models in the U.S. and Europe, the flash sales market in China has quickly expanded beyond selling primarily luxury brands and services. China's flash sales market encompasses a broader range of brands and products, appealing to a larger base of consumers. Vipshop had 48.8 million registered members and over 12 million cumulative customers. It promoted and sold products for over 8,700 popular domestic and international brands as of December 31, 2013.
According to a Bloomberg report in March, Vipshop's Guangzhou-based share price doubled this year after surging 369% in 2013—the biggest advance on the Bloomberg China-U.S. Equity Index. The stock is up 87% YTD.
In March, Vipshop increased its convertible bonds offering to $550 million from the $400 million that was announced earlier. The notes, which are due in 2019, have an interest rate of 1.5% and a conversion price of $201.24. It also saw some existing shareholders selling 1.14 million American Depositary Shares at $143.74 each. A report in Wall Street Journal said "this was the second-largest convertible bond sale by a non-Japanese Asian issuer in the region this year."
Increase in number of active customers and total orders drive robust results
Article continues below advertisement
Vipshop reported better than expected earnings for 1Q14 with triple digit growth in both top and bottom line. Total net revenues increased by 125.9% over the same period the last year to $701.9 million. The increase was due to a 165.1% increase in the number of active customers to 7.4 million from 2.8 million and a 129.3% increase in total orders to 20.2 million from 8.8 million over the same period the past year. Less than 5% of total net revenues during 1Q14 were attributed to Lefeng.com—the online cosmetics and fashion products retailor which was acquired in February.
Net income attributable to Vipshop's shareholders increased by 355.3% to $26.6 million from $5.8 million in the same period last year. Generally accepted accounting principles (or GAAP) net income per diluted Alliance Data Systems (or ADS) increased to $0.46 from $0.11 in the same period the past year. Gross margin increased to 24.9% in 1Q14 from 23.4% in 1Q13 due to Vipshop's increased bargaining power with its suppliers because of increased scale and the growth of the marketplace business.
Vipshop is bullish about the second quarter
For 2Q14, Vipshop expects its total net revenues to be between $780–$790 million, representing a year-over-year (or YoY) growth rate of approximately 122.0–124.9%. The management said, "We are confident that our initiatives in 2014 of expanding our warehousing, merchandizing and IT capabilities will help further enhance our ability to satisfy, retain and attract customers, through delivering the best-in-class customer experience and product selection, and drive long-term value for our shareholders."
Vipshop saw an upgrade from Credit Suisse, which said, "Growth in new key categories such as cosmetics and mother/baby goods are strategic focus for 2014. We expect cosmetics to grow over 200%."