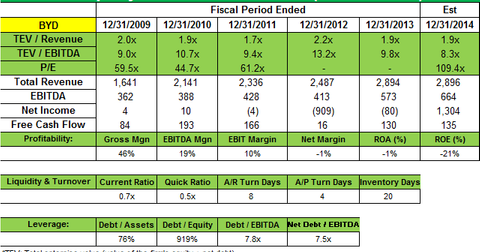 Paul Singer's Elliott Management buys a new stake in Boyd Gaming
By Samantha Nielson

Updated
Elliott Management and Boyd Gaming Corp.
Paul Singer's Elliott Management added new positions in Boyd Gaming Corp. (BYD), SM Energy Co. (SM), and Hornbeck Offshore Services (HOS) and sold stakes in NetApp Inc. (NTAP) and Time Warner Inc. (TWX). A notable position reduction for the fund was Delphi Automotive (DLPH).
Elliott took a new position in Boyd Gaming Corp. (BYD) last quarter. The position accounts for 1.41% of the fund's $5.05 billion portfolio. Elliott said in March that it owns 5,380,000 shares of Boyd Gaming's stock, constituting an approximately 4.99% stake. The fund also said it has economic exposure to approximately 2.05% of the shares of common stock outstanding pursuant to derivative agreements.
Article continues below advertisement
Boyd Gaming is a multi-jurisdictional gaming company that has been operating for almost 40 years. Headquartered in Las Vegas, it has 21 wholly owned gaming entertainment properties in Nevada, Illinois, Indiana, Iowa, Kansas, Louisiana, and Mississippi, and one controlling interest in a limited liability company in New Jersey. It also owns and operates a travel agency and a captive insurance company that underwrites travel-related insurance, each located in Hawaii. The company's main business emphasis is slot revenues, which highly depend on the number and spending levels of customers at its properties, which affects its operating results.
Boyd saw speculation of an activist push in March
Boyd's shares went up after Elliott disclosed the stake and analysts speculated that activist investor Singer might persuade management to opt for a real estate investment trust structure. In March, Boyd reported a loss for 4Q 2013 of $26.4 million, or $0.24 per share. Analysts expected Boyd to follow the example of Penn National Gaming (PENN), which last year finalized a tax-free spinoff its 22 properties into a publicly traded REIT named Gaming and Leisure Properties (GLPI). Under U.S. tax law, REITs don't pay any federal income tax, provided they distribute 90% of their profits to shareholders.
Results miss estimates while Borgata online gaming records a loss
Article continues below advertisement
In 1Q 2014, the company's revenue and earnings missed estimates. Earnings for the first quarter 2014 reflected a loss of $4.1 million, or $0.04 per share, compared to an income of $1.4 million, or $0.02 per share, for the same period in 2013. Net revenues declined 3.7% to $708.3 million primarily due to revenue declines in the Midwest and South and Peninsula segments. The continuing impact of a slowly recovering economy on consumer spending, compounded by the unusually severe winter weather experienced during the quarter, negatively impacted these segments. Adjusted EBITDA was negatively impacted by an estimated $10 million to $12 million during the quarter. Total debt was $4.37 billion, of which $1.14 billion was related to Peninsula and $809.3 million was related to Borgata.
Plus, Boyd said its Borgata casino's online gaming operations recorded a $3.2 million operating loss related to its launch. Boyd and MGM Resorts share ownership of Atlantic City's Borgata casino, and Boyd said Borgata results reflect reduced visitation due to unusually severe winter weather throughout the quarter. Boyd had entered the real money online gaming market in November 2013 with the launch of Borgata Hotel Casino and Spa's website.
Fitch is positive about New Jersey gaming prospects
Fitch said in March that an interstate online poker agreement signed by Delaware's and Nevada's governors in February will accelerate state-by-state proliferation of online gaming. It previously reaffirmed its 2014 forecast for New Jersey online gaming revenues in the $200 million–to–$300 million range and said it expects "meaningful sequential growth to continue throughout the year." Fitch said the primary driver for the growth will be a ramp-up in players' awareness of online gaming as a result of operators' marketing efforts. Other factors driving growth include technology improvements, users' adaption to the available payment methods, and the rollout of mobile products. In New Jersey, top two online license holders—Borgata and Caesar's—control 73% of the online market, the ratings agency noted.