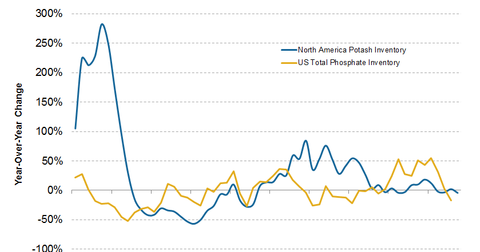 Why an inventory drawdown is a positive sign for fertilizer stocks
By Xun Yao Chen

Updated
Inventory levels
The amount of fertilizers stored in North America gives investors a sense of the dynamics between supply and demand. An inventory drawdown could also shift pricing power from buyers to wholesale producers such as Potash Corp. (POT), Mosaic Co. (MOS), Intrepid Potash Inc. (IPI), and Sociedad Quimica y Minera de Chile ADR (SQM). If inventory levels are rising, you can expect a looser supply and demand balance. This can happen either due to higher supply, which can pressure pricing, or weaker-than-expected demand.

Inventory drawdown
Article continues below advertisement
Year-over-year growth of potash and phosphate fertilizer inventories have come down quite a bit since mid-2013, a sign that the supply and demand balance is tightening. In February 2014, inventory levels for potash in North America and phosphate in the United States were 4.23% and 12% below figures for the same month in 2013.
Analysts often look at year-over-year growth data because inventory is seasonal. Although fertilizer producers operate at a constant rate throughout the year, fertilizer demand is subject to seasonality. This means when demand hits its peak, inventory levels are generally low, and vice versa. So, to account for seasonality, analysts use year-over-year growth figures.
Delayed purchases 
The last few months of improvements show that buyers have returned to the market after postponing purchases due to uncertainties regarding the breakup of Uralkali and Belaruskali in mid-2013. Purchases were also postponed, as buyers sought to take advantage of lower expected prices ahead. A delayed harvest in the United States also pushed back purchasing dates.
While the cold winter might have encouraged retailers to purchase more potash and phosphate than usual in the United States, global inventories are relatively low compared to the past few years, according to several companies' recent presentations. If retailers expect a turnaround in the industry and prices remain favorable, potash and phosphate producers should benefit from the release of pent-up demand.