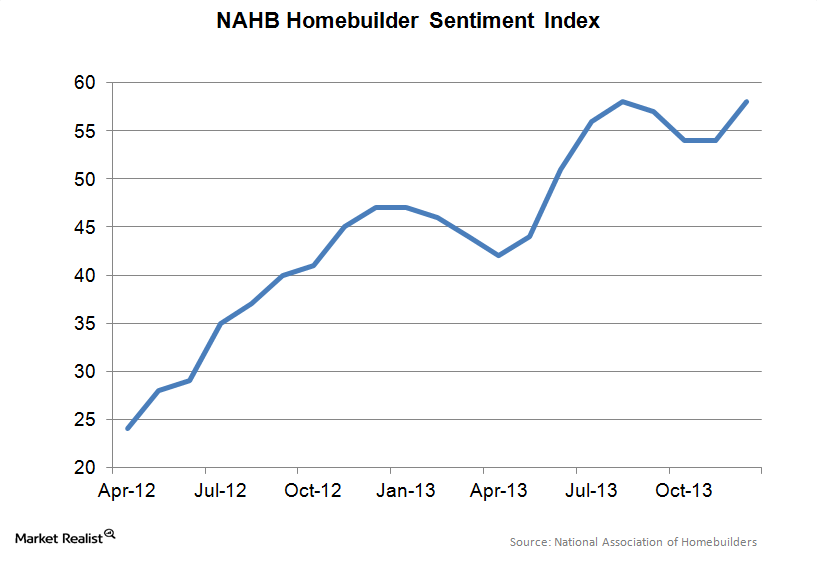 Why homebuilder sentiment hits post-bubble highs, helping stocks
By Brent Nyitray, CFA, MBA

Nov. 20 2020, Updated 4:28 p.m. ET
The National Association of Homebuilder Sentiment Index is a closely watched measure of future building activity
The National Association of Homebuilders Sentiment Index measures homebuilders' confidence. It gauges builder perceptions of current and future sales of single-family residences and asks builders to characterize the sales as "good," "fair," or "poor."  It also asks the builders to rate the traffic of prospective buyers as "high to very high," "average," or "low to very low."
An index level of 50 is considered neutral. The index peaked at 71 during the height of the housing bubble—late 2005—and bottomed at eight in early 2009. While the index has been steadily rising in the years since it bottomed, it has begun to accelerate.
Homebuilder sentiment is back at post-bubble highs
Article continues below advertisement
The index came in at 58—an increase from 54 in November. Most of the builders reported seeing some fall-off in traffic in the third quarter, which is not surprising since the pick-up in rates in Q2 initially caused a spike in traffic, as buyers who were on the fence finally made a decision to buy. This may have "borrowed" some buyers from future quarters.
Builders are in a good position right now, with tight inventory. They are able to increase margins (virtually every builder reported higher gross margins) and were able to drive revenue by increasing prices. Most market watchers expect home prices to moderate next year, but that would require additional supply. In the Northeast, that may be possible, as the foreclosure pipeline is still full. In the red-hot West Coast markets, builders still seem to be cautious about over-building.
Given that third quarter earnings were still pretty robust, this report isn't a surprise. Lennar (LEN), KB Home (KBH), Toll Brothers (TOL), Ryland (RYL), and Meritage (MTH) all reported strong earnings. The NAHB is forecasting a 29% increase in housing starts this year.
Shortages of skilled labor have been a problem for the homebuilding industry as well as the mortgage industry. Since the bubble burst, employment in these sectors dropped so dramatically that many skilled workers found jobs in other sectors of the economy. Skilled construction workers were absorbed by the energy sector and trucking.
Implications for homebuilders
Homebuilders are in a better position than the smallest construction firms in that they have easy access to credit. Last fall, Toll Brothers (TOL) priced a senior convertible bond offering on amazingly easy terms—a 50 basis point coupon, a conversion premium of 50%, and a 20-year maturity. Those terms were unheard of—even in the go-go credit days of the housing bubble, no one was issuing 20-year paper with a negligible coupon at a 50% conversion premium.
At some point, demographics will take over. Housing starts have been so low for so long that there's some real pent-up demand that will unleash as the economy improves. The Homebuilder ETF (XHB) didn't really react to the news. As the job market improves, the first-time homebuyer should reappear, which would create a wind at the back of the homebuilders.