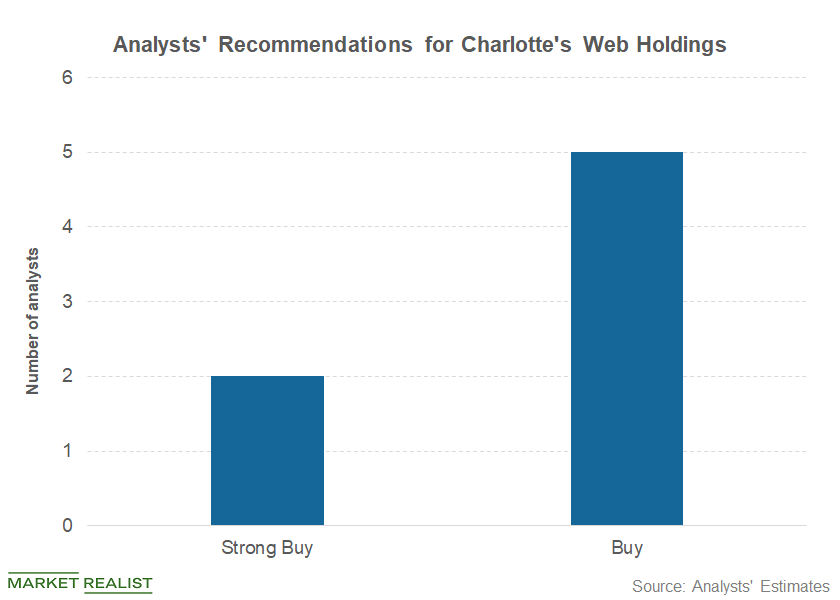 Key Cannabis Sector Updates: Analyst Ratings and Earnings
Cannabis update
Last week, Emerald Health Therapeutics (EMH) closed with losses of 9.4%. The company released its fourth-quarter and full-year 2018 earnings last week. Its net loss widened to 30.9 million Canadian dollars in 2018 from 8.8 million Canadian dollars in 2017. However, its revenues more than doubled to 1.9 million Canadian dollars. Jefferies lowered its target price from 4.3 Canadian dollars to 4.2 Canadian dollars after the earnings release. The brokerage raised Cara Therapeutics' (CARA) price target from $22 to $25.
Article continues below advertisement
Green Organic Dutchman Holdings
Last week, Green Organic Dutchman Holdings (TGOD) announced a settlement with Hamilton City Council. The company noted, "The facilities in Ancaster, Ontario will be capable of growing 17,500 kgs of premium certified organic cannabis annually." TGOD also announced the opening of the second cannabis retail store in Jamaica along with Epican Medicinals. Green Organics Dutchman is scheduled to release its earnings on May 14. Supreme Cannabis Company (FIRE) plans to release its earnings on May 13. Arena Pharmaceuticals (ARNA) plans to release its earnings tomorrow.
Hedge funds
Moore Capital Management announced a passive stake of 9.24% in Greenlane Holdings (GNLN) last week. However, the stock has seen a selling spree in the last two weeks after posting strong listing gains.
Last week, Charlotte's Web Holdings (CWEB) (CWBHF) announced the appointment of Deanie Elsner as the new CEO. Elsner has previously held positions in Kellogg's and Kraft. Charlotte's Web Holdings has received a "strong buy" rating from two analysts, while the remaining five analysts polled by Thomson Reuters have rated it as a "buy." The stock's mean consensus price target of32.27 Canadian dollars represents a potential upside of 25.3%.